Star Wars Bits: J.J. Abrams' Favorite Fan Theory, Launch Bay Launches, Light Side & Dark Side Ice Cream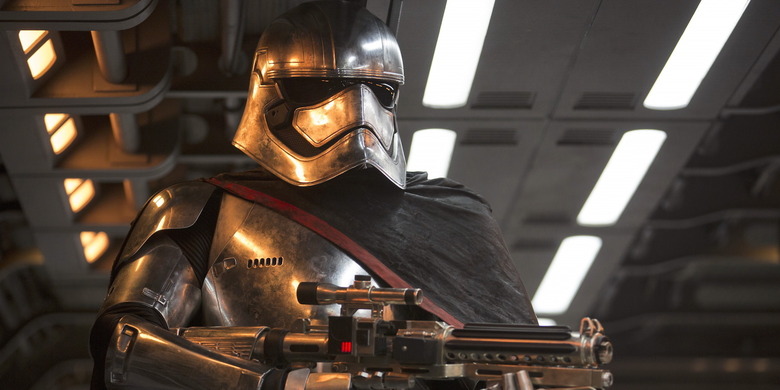 After the jump:
J.J. Abrams talks Han Solo, Kylo Ren, and much more.
Take in a video tour of Disney World's Star Wars Launch Bay.
See every original trilogy vehicle and ship to scale.
A Force Awakens co-producer explains how she got that sweet gig.
Abu Dhabi will host The Force Awakens' Middle East premiere.
Carrie Fisher has also noticed the dearth of Leia merchandise.
Ooh and ahh over a customized Stormtrooper Fiat.
Ample Hills Creamery serves up Star Wars-branded ice cream.
Gwendoline Christie models a Chrome Trooper dress.
J.J. Abrams recently sat down for a Sirius XM Town Hall, and while the full audio won't be available for another several days, EW has dished out some tasty morsels to whet our appetites. Above is Abrams spilling his favorite wacky fan theory; below, he weighs in on whether Han shot first. Hear all the clips on Soundcloud.
The Star Wars Launch Bay at Walt Disney World has finally, officially opened doors. For those of us who can't make it to Orlando quite yet, Inside the Magic has posted a cool video tour which you can see above.
Everyone knows what a Tauntaun or a TIE fighter or a Death Star looks like. But do you know how they stack up against one another? Artist Scott Park has illustrated every vehicle and spaceship from the original trilogy to scale, and Sploid put them all together in a cute little video. Watch it above.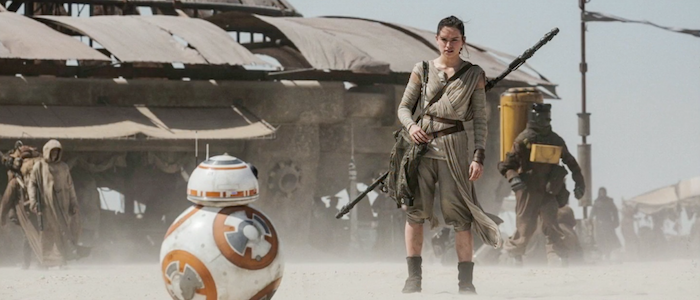 Michelle Rejwan has what many of us would call a dream job — she's a co-producer on Star Wars: The Force Awakens. But just a few years ago, she was a (relatively) lowly casting assistant. So how'd she get up that ladder? Rejwan explains in an interview with Marie Claire:
Never settle for good when something can be great. When numerous pressures are coming at you, it can be seductive to think you've done all you can do. But if J.J. hears an idea that makes something better— no matter who it comes from—he'll fight to do it. That's become a core value in my approach to my job.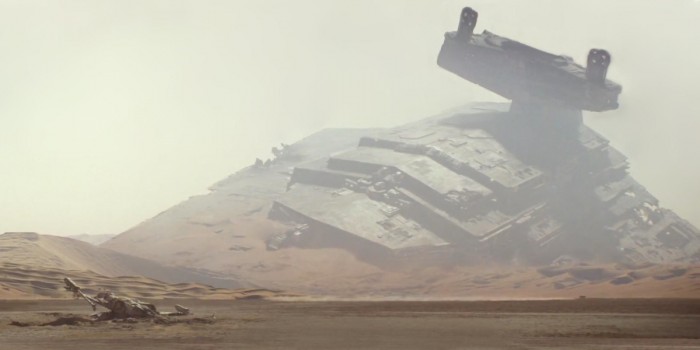 The cast and crew of Star Wars: The Force Awakens are heading back to Abu Dhabi, but this time they won't be in sweaty costumes and props. The UAE capital, which stood in for the desert planet of Jakku, will host the Middle East premiere of the movie on December 16, reports THR.
@DisneyStore @nataliewreyford @carrieffisher Carrie Fisher, did you know Disney is not selling Princess Leia dolls? What are your thoughts?

— EvidenceOfRevision (@BrigidCovey) December 1, 2015
A fan has alerted Carrie Fisher to the dearth of Leia merchandise, and it looks like she's none too happy about it. Fisher (via Mashable) retweeted the comment above. While Disney's statement is from last year, it doesn't look like the Disney Store is exactly bursting with Leia merchandise today, either, at least online.
Meanwhile, fans have also expressed their irritation at the apparent scarcity of Rey merchandise. But retailers say Rey merchandise is simply selling out too quickly, while Disney promises more Rey toys will hit shelves after The Force Awakens opens in theaters.
The force is strong with #Fiat at the #laautoshow – #happythanksgivingyall #starwars
A photo posted by Comic Book Resources (CBR) (@comicbookresources) on
Until X-wings and TIE fighters become a reality, Garage Italia's customized Stormtrooper Fiat (via CBR) may be the coolest Star Wars vehicle in our galaxy. The attention to detail on this car is pretty impressive — not only is it decked out in Stormtrooper colors and adorned with Star Wars decals, it actually looks like a Stormtrooper helmet when viewed head-on. 
Garage Italia Customs presents a special edition of the electric 500 dedicated to ?#StarWars? at Los Angeles Auto Show: the 500e stormtrooper! ???????????? @lapoindependent @italiaindependentofficial @carlolodovico @starwars @laautoshow #garageitaliacustoms @fiatontheweb @fiatusa #fiat #500e #500 #fiat #maytheforcebewithyou #stormtrooper #lapoelkann #autoshow #carshow #picoftheday #dailypic #bestcar #bestcaronly #italiansdoitbetter A photo posted by Garage Italia Customs (@garageitaliacustoms) on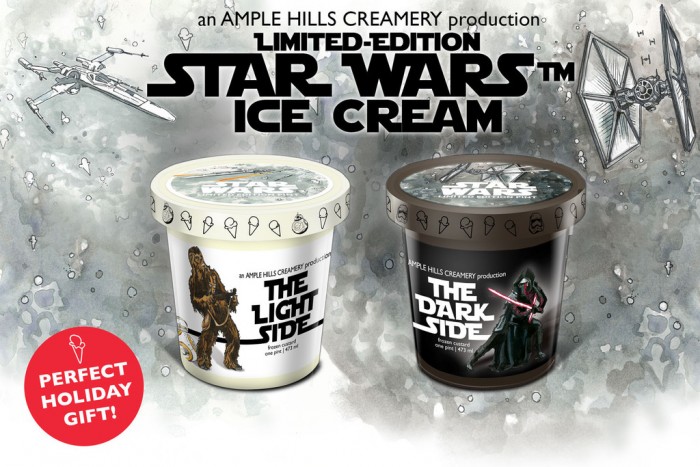 Of all the Star Wars tie-in products, these might be the tastiest. Brooklyn-based Ample Hills Creamery has put out two officially licensed Star Wars ice cream flavors, described as follows:
The Light Side: a bright marshmallow ice cream with homemade crispie clusters, as well as a smattering of handmade cocoa crispies (to represent the dark side still lurking within the light)
The Dark Side: by contrast, is an ultra-dark chocolate ice cream with espresso fudge brownies, cocoa crispies, and white chocolate pearls (to represent the light still hiding in the dark, waiting to burst through)
I've been to Ample Hills many times, and while I haven't tried these particular flavors I can attest that their products in general are really damn delicious. But let's be real: there is no contest between marshmallow ice cream and chocolate ice cream. No wonder Anakin was so easily lured over to the Dark Side.
Just as Captain Phasma rocks the hell out of that chrome trooper outfit, Gwendoline Christie, as seen in the Vanity Fair video above, looks like a goddess in her Giles Deacon-designed chrome trooper dress. The custom gown is part of Star Wars and Bloomingdale's Force 4 Fashion campaign, which also includes designs by Diane von Furstenberg, Opening Ceremony, Cynthia Rowley and more.
Christie's dress and others will be auctioned off December 2-18 at CharityBuzz.com, with proceeds going to Child Mind Institute. New Yorkers can drop by the flagship store to see the outfits on display in the windows.