'Outlander' Season 2 Teaser Trailer: Let's Talk About The Future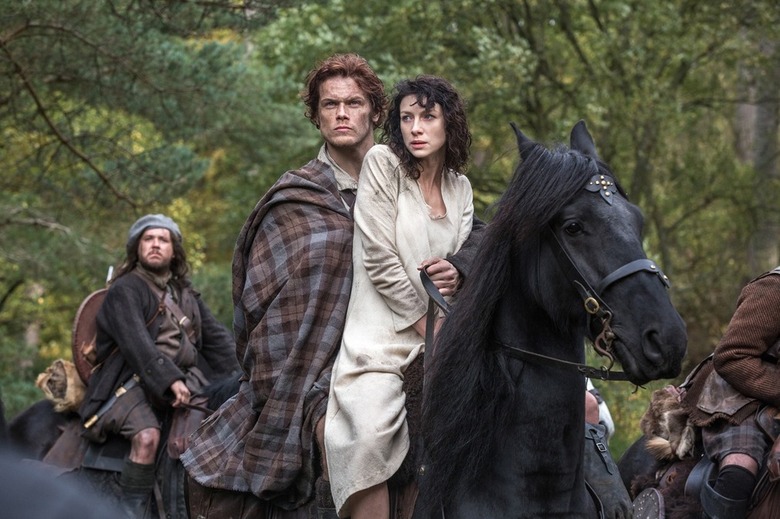 One of the most enjoyable panels I attended this year at Comic Con was for Starz's Outlander. I've never seen an episode of the show, but what I saw at Comic Con, including its insanely charming cast and writers and the footage they previewed, made me want to finally watch the show. The Outlander season 2 trailer makes me, once again, regret I haven't watched season 1 yet.
Watch the Outlander season 2 teaser trailer after the jump.
The series, headed by Ron Moore (Battlestar Galactica), is an adaptation of Diana Gabaldon's series of novels. The show focuses on a Claire Randall (Caitriona Balfe), a nurse in World War II who finds herself in 18th Century Scotland. Season one was a hit with fans and viewers, and soon the show returns for its second season. This season is set in France, with a preggers Claire and Jamie (Sam Heughan) on the run, as they attempt to prevent a war.
Here's a glimpse at the upcoming season of Outlander:
Starz split the first season in half, but that's not the plan for the upcoming season, for which no official premiere date has been set. Whenever it airs, I plan on catching up on the show before it returns. This footage, cut to a cover of XTC's "Dear God," by Lawless featuring Sydney Wayser, is exciting. This doesn't look like the typical, stuffy period pieces we often see from cable networks. The sets and costumes have an authentic lived-in feeling, and it doesn't look like the kind of period piece set almost entirely in interiors. The point is: I should start watching this show soon, and I will, because it looks pretty damn good.
Here's the official synopsis for Season 2 of Starz's Outlander:
Season Two of Outlander begins as Claire and Jamie arrive in France, hell-bent on infiltrating the Jacobite rebellion led by Prince Charles Stuart, and stopping the battle of Culloden. With the help of his cousin Jared, a local wine merchant, Jamie and Claire are thrown into the lavish world of French society, where intrigue and parties are abundant, but political gain proves far less fruitful. Altering the course of history presents challenges that begin to weigh on the very fabric of their relationship. However, armed with the knowledge of what lies ahead, Claire and Jamie must race to prevent a doomed Highland uprising, and the extinction of Scottish life as they know it.
Outlander returns to Starz in spring 2016.