'A Very Murray Christmas' Trailer And Early Buzz Promise A Pleasant Throwback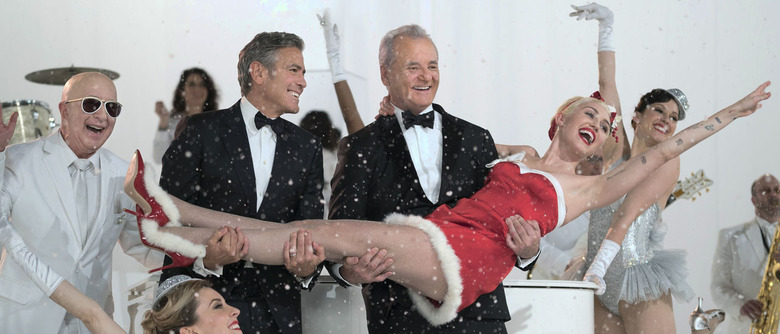 If Bill Murray, Sofia Coppola, and Netflix have it their way, A Very Murray Christmas will become a new holiday classic. So even though it's a brand-new variety special, the latest promo is going the retro route, modeling itself after those Time Life infomercials of yore.
But angling for holiday classic status is one thing. Whether A Very Murray Christmas actually achieves it is another question. Happily, the early buzz suggests we may have another perennial favorite on our hands. Watch the latest A Very Murray Christmas trailer, and get the early buzz on the holiday special, after the jump. 
Netflix dropped the A Very Murray Christmas trailer on YouTube.
Frankly, A Very Murray Christmas doesn't have a very high bar to clear. We're right in the thick of Christmas season; Bill Murray is one of the most beloved celebrities in America; and everyone needs something to put on in the background while they gift-wrap presents or bake gingerbread cookies. As long as it's not flat-out terrible, A Very Murray Christmas should have no trouble finding an audience.
And based on the first wave of reviews, A Very Murray Christmas seems to have no trouble meeting those standards. In fact, early word on the special is that it's quite good. Here are a few sample reviews:
To call "A Very Murray Christmas" trifling is not necessarily an insult. There are probably quite a few people who've wondered what it would be like to spend an evening in a bar with Bill Murray, basking in the actor's off-kilter sensibilities and listening to him and a few famous friends sing karaoke. True, there is a self-congratulatory air to the entire project, but at scarcely an hour, the special is so slender and slight that it doesn't outstay its welcome. If the weather outside is frightful (or even if it's tolerable), there are worse ways to spend a holiday-season hour than with Murray and his glamorous chums.
Thankfully, there's the through-line of Bill Murray, beloved comic persona, to keep the whole thing from sinking into the mire. He may be inscrutable—when he does an in-character complaint about how much he hates the whole idea of the special, and says, "I'm so alone," it's hard to tell how serious he is—but his breezy presence makes all the wobbly transitions and strange choices feel natural. It may not be the finest Bill Murray Christmas special imaginable, but it never feels anything less than 100 percent him. Veering between ironic commentary and committed goofball bits, he conjures up the charismatic charm that's made him such an icon, and uses it to sustain this odd holiday treat.
Only time will tell if "A Very Murray Christmas" will join the ranks of seasonal classics like "How the Grinch Stole Christmas" and "Pee-Wee's Playhouse Christmas Special."
But in the here and now, this hour-long special — which starts streaming Friday on Netflix — is an endearingly oddball tribute to the variety specials of yore.
Written by star Bill Murray, his "Scrooged" accomplice Mitch Glazer and director Sofia Coppola, the show exudes an air of goofy cool without appearing to try too hard — kind of like Murray himself.
It's a non-stop parade of celebrity faces, but none will be all that surprising for anyone who's seen the trailer or read the synopsis provided by Netflix. "A Very Murray Christmas" isn't about wowing you with the names it's able to snag — after all, they found Bill Murray, so bringing in George Clooney, Amy Poehler and Chris Rock is no big deal. Instead, it seems designed to draw you into Murray's worldview, perhaps even his day-to-day life with the slightest exaggeration of celebrity guests and spontaneous songs (though undoubtedly both happen fairly often). It's more merry than melancholy, but the story features a pensive Murray staring out the window at a cold, quiet New York City; the glass acting as both a barrier to the outside world of your Average Joe Citizen and a window that only opens so often to stars of his stature.
To open the real present under this tree: Come for the headliner and a bit of fun, stay for Cyrus and a voice that could put any Scrooge in the Christmas spirit.
A Very Murray Christmas hits Netflix on December 4.
This winter, Bill Murray brings an extra-special dose of holiday cheer to Netflix with the premiere of an all-star musically-driven holiday special, A Very Murray Christmas. Set inside New York City's iconic Carlyle hotel, A Very Murray Christmas opens with Murray preparing to host a live, international holiday broadcast. After a blizzard shuts down the production, he makes the best of the situation by singing and celebrating with friends, hotel employees and anyone else who drops by.