Patton Oswalt Joins Felicia Day In 'Mystery Science Theater 3000' Reboot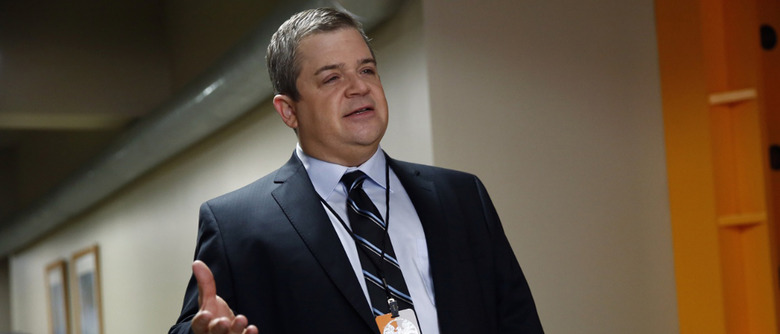 Mystery Science Theater 3000 is an old show making fun of even older movies. But now that it's being resurrected, it's bringing on some fresh blood. Patton Oswalt has just joined the cast as TV's Frank's son — or rather, "TV's Son of TV's Frank" — the henchman to the new Mad, played by Felicia Day. More on the Patton Oswalt MST3K casting after the jump.Joel Hodgson announced the Patton Oswalt MST3K casting in an update to the show's Kickstarter page this week, while Oswalt confirmed the news on his own Twitter page.
I am ready to push the button. I AM READY TO PUSH THE BUTTON. https://t.co/nieM8CQ3zk

— Patton Oswalt (@pattonoswalt) November 30, 2015
Oswalt is a longtime MST3K fan, and Hodgson is a fan of Oswalt's right back — he describes the standup comedian and actor as "a very fun, articulate and witty soul – just the kind of person who we've always tried to bring onboard for MST3K." At first, Hodgson explained, he only thought to get Oswalt on board as a guest writer. But then, Hodgson continued:
Remember last week, how I said my creative process usually starts with visuals, and then I work backward? Well, in this case, I first imagined Patton dressed up like TV's Frank. I figured maybe he'd be Frank's son, or at least a clone. But yeah: the idea of Patton wearing black lab assistant's garb, with a big mound of silver hair and a spitcurl...? It was just really funny to me, in a visual / cross-referential / meta kind of way.
Hodgson approached Oswalt with the idea, and needless to say, Oswalt was all in.
It's not too different from the way Day was cast as new villain Kinga, daughter of Dr. Clayton Forrester.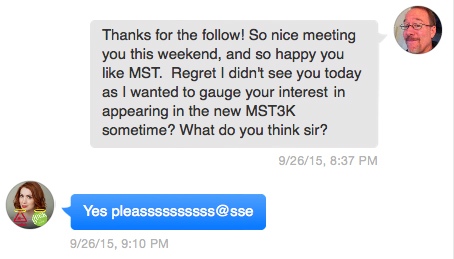 Oswalt and Day join Hampton Yount and Baron Vaughn, who'll voice Crow and Servo respectively. Nerdist's Jonah Ray is expected to be the new host.
Of course, none of this casting will be 100% finalized until after the Kickstarter campaign has ended. The campaign has long since passed the initial goal of $2 million for 3 new episodes, but Hodgson's now got his eye on earning $5.5 million for a full season of 12 episodes. At present, the tally stands at $3.45 million earned with 10 days to go. To get more details, or to contribute, head over to Kickstarter.