Rumor: Will Captain America And Iron Man Swing By The New 'Spider-Man'?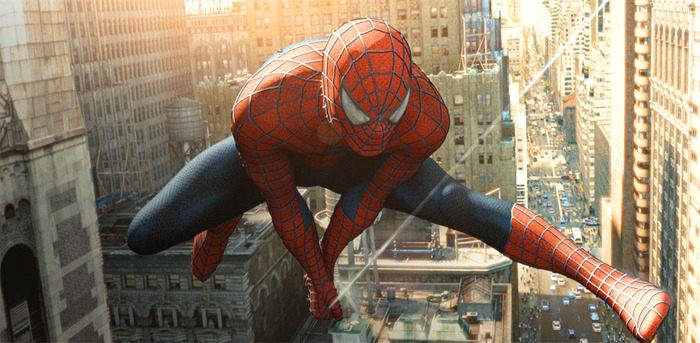 It's no secret that Tom Holland's Spider-Man will first swing by next year's Captain America: Civil War, getting caught up in the battle between Iron Man (Robert Downey Jr.) and Captain America (Chris Evans). But the question we haven't really considered yet is who might swing by Tom Holland's Spider-Man movie.
Now an interesting bit of speculation suggests that Captain America and Iron Man might return the favor to their young friend, popping up in the Spider-Man solo outing due out in 2017. More on the Captain America and Iron Man in Spider-Man rumor after the jump. 
ComicBook.com pieced together this latest rumor based on various comments made by Downey, Evans, and Holland. You may recall that Downey and Evans were on Jimmy Kimmel Live last week to unveil the first Captain America: Civil War trailer. During their joint appearance, Downey and Evans good-naturedly complained about shooting Captain America: Civil War in Atlanta in July. Then Downey commented to Evans, "By the way, we are going to shoot in Atlanta again, you and I." Evans responded, "I know, I'm ready, I'm ready."
Downey and Evans didn't name the movie they'd be filming together in Atlanta, but Holland has confirmed in the past that Spider-Man will shoot there. "We're shooting in Atlanta for most of it, because they have studios there and I think it's cheaper to build a New York set than it is to shoot here, because it's going to be very expensive," he told Coming Soon. "We probably will end up [in New York] for one week or two."
Guardians of the Galaxy Vol. 2 is the only other Marvel movie currently confirmed to shoot in Atlanta, and director James Gunn has already explicitly ruled out an Iron Man cameo. Both Doctor Strange and Thor: Ragnarok seem to be headed elsewhere (though a brief stop in Atlanta can't be ruled out). And the other films, including 2018-2019's Avengers: Infinity War, are probably are too far off to have shooting locations locked in at this time.
Besides that, the new Spider-Man could probably use a boost. Audiences were already burned out on the character the last time Sony attempted a relaunch, 2012's Amazing Spider-Man. The big selling point of this new reboot is that it's part of the Marvel Cinematic Universe, and getting Iron Man and Captain America to stop by would be a good way to remind audiences of that.
Captain America: Civil War is due out May 6, 2016, and Holland's solo Spider-Man movie on July 28, 2017.