'Doctor Strange' Confirms Cast; Read The First Synopsis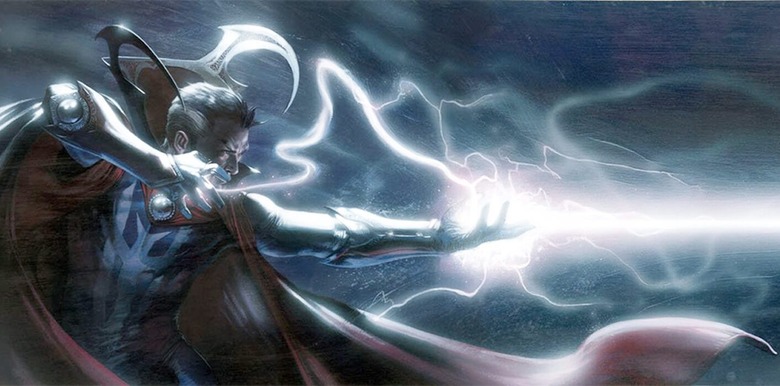 Marvel Studios has officially announced the start of production on Doctor Strange... three weeks after the first set photos surfaced on the web. Yeah, we were already onto you, Marvel.
Still, that press release is useful for confirming certain details about the studio's mysterious new movie. It reveals the star-studded cast (which includes Mads Mikkelsen, previously reported only as being in talks) and the crew (which is made up almost entirely of Marvel vets). It also gives us the first official Doctor Strange synopsis. Get all the latest officially confirmed Doctor Strange details after the jump. 
Here's the first Doctor Strange synopsis from Marvel Studios:
"Doctor Strange" follows the story of neurosurgeon Doctor Stephen Strange who, after a horrific car accident, discovers the hidden world of magic and alternate dimensions.
"Doctor Strange" is the latest film in Phase 3 of the Marvel Cinematic Universe. Phase 3's goal—over the course of four years and nine films—is to introduce audiences to new heroes and continue the adventures of fan favorites.
Benedict Cumberbatch leads the cast as Doctor Strange, and the statement confirms that Chiwetel Ejiofor, Rachel McAdams, Michael Stuhlbarg, Mads Mikkelsen, and Tilda Swinton will also star. Their character names have not been revealed, and there's still a lot of speculation about whom McAdams and Mikkelsen in particular are playing. There's no mention in the statement of Scott Adkins or Amy Landecker, both of whom were added after shooting began.
As for the behind-the-camera talent, here's how Marvel lists them:
Director Scott Derrickson's creative team also includes director of photography Ben Davis, B.S.C. (Marvel's "Avengers: Age of Ultron," Marvel's "Guardians of the Galaxy"); production designer Charles Wood (Marvel's "Avengers: Age of Ultron," Marvel's "Guardians of the Galaxy"); costume designer Alexandra Byrne (Marvel's "Avengers: Age of Ultron," Marvel's "Guardians of the Galaxy"); editors Wyatt Smith ("Into the Woods," Marvel's "Thor: The Dark World") and Sabrina Plisco, ACE ("Mr. Magorium's Wonder Emporium," "Charlotte's Web"); and visuals effects supervisor Stephane Ceretti (Marvel's "Guardians of the Galaxy").
You may notice that of all these people, only director Scott Derrickson and editor Sabrina Plisco are new to the MCU. It's a Marvel-heavy lineup even for a Marvel movie. Derrickson and his cast and crew will be traveling around the world for the shoot, hitting London, New York, Hong Kong, and Kathmandu, Nepal.
Doctor Strange opens November 4, 2016. Kevin Feige, Louis D'Esposito, Victoria Alonso, Charles Newirth, Stephen Broussard, and Stan Lee are executive producers.