Ryan Gosling Being Courted For Damien Chazelle's Neil Armstrong Biopic 'First Man'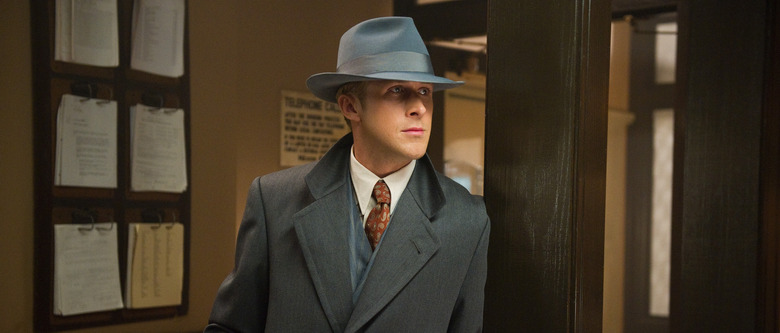 Ryan Gosling and Whiplash director Damien Chazelle have been working together on La La Land, and apparently they've had such a good time they're looking to team up again. Gosling is being courted for Chazelle's First Man, a biopic of astronaut Neil Armstrong. Josh Singer (Spotlight) wrote the script. More details on the possible Ryan Gosling Neil Armstrong movie after the jump. 
Deadline, which broke the Ryan Gosling Neil Armstrong news, cautions that no deal is in place. Singer is still writing the script based on James Hansen's biography First Man: A Life of Neil A. Armstrong. In 1969, Armstrong became the first man to set foot on the moon. He's the one who uttered that iconic line: "One small step for man, one giant leap for mankind." He eschewed the fame that followed, and lived a relatively private life after his return. He passed away in 2012 at the age of 82.
First Man has been in development for over a decade. Originally it was set up at Warner Bros., with Clint Eastwood planning to produce and direct. By 2008 at it was at Universal, with Nicole Perlman (Guardians of the Galaxy) set to write the script. Chazelle began orbiting the project since last year. Wyck Godfrey and Marty Bowen of Temple Hill will produce.
Chazelle broke out last year with Whiplash, which starred Miles Teller as an aspiring drummer and J.K. Simmons as the brutal conductor who pushes him toward greatness. He planned to reunite with Teller for La La Land, but Gosling ultimately took the role instead. Also starring in the contemporary musical is Emma Stone, who co-starred with Gosling in Gangster Squad and Crazy, Stupid, Love. La La Land opens next summer.
Gosling hasn't been seen onscreen since 2013's Only God Forgives, but he'll be all over the place for the next year or so. Next month he stars with Brad Pitt, Steve Carell, and Christian Bale in Adam McKay's financial crisis drama The Big Short. In addition to La La Land, Gosling also has Shane Black's The Nice Guys due out next summer. And at some point in the not-too-distant future, he'll begin shooting Blade Runner 2 with director Denis Villeneuve.