Disney Trying To Downplay Record-Shattering Box Office Predictions For 'Star Wars: The Force Awakens'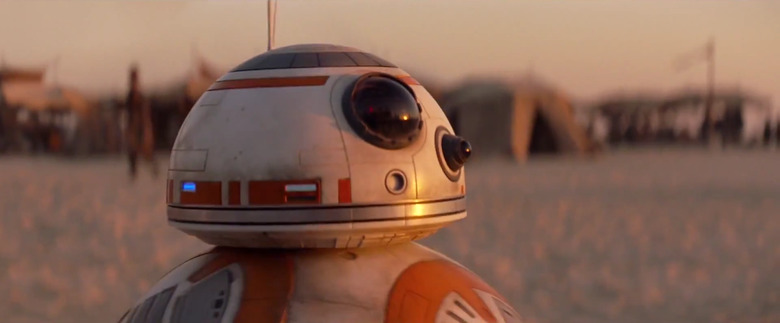 Box office predictions can be tricky, but Star Wars: The Force Awakens is about as close to a sure-bet slam-dunk as we've ever going to see. Opinions vary only on exactly how huge it's going to be. Today, distributors began tracking the film for its December 18 opening, and predictions run the range from "record-shattering" to "record-obliterating."
Which is good news for Disney — but it's also making the studio nervous. Because the higher expectations are, the higher The Force Awakens will have to soar in order to come across as anything other than a disappointment. Get the latest on the Force Awakens box office predictions after the jump.  
Deadline reports that tracking services project somewhere between $185 million and $210 million for The Force Awakens' domestic opening, with some of the most optimistic sources approaching $300 million. Within Disney, the predictions are apparently a little bit lower, closer to $170 million. The film is tracking well across all four quadrants (males and females, over and under 25).
To put those figures in perspective, the biggest December opener ever in the U.S. was The Hobbit: An Unexpected Journey with $85 million — less than half of the most conservative estimate for The Force Awakens above. But it looks like The Force Awakens will still have to fight to beat the biggest opening weekend of all time, Jurassic World's $208.8 million bow. It's also worth pointing out that Force Awakens has already made $50 million in ticket pre-sales — twice as much as the previous record set by The Dark Knight Rises.
Of course, such rosy predictions are a double-edged sword, as we recently saw with The Hunger Games: Mockingjay – Part 2. Despite strong start of $102 million, it was considered a disappointment because it fell short of the $121 million earned by Mockingjay – Part 1 in its first weekend. For The Force Awakens, breaking The Hobbit's record won't be enough — it'll have to double or triple it just to meet expectations. That's an extremely tall order, even for a franchise armed with lightsabers, blasters, and decades of pent-up nostalgia.
So Disney is eager to try and manage expectations. Studio chairman Alan Horn hastened to explain to THR:
There are a number of things that put this film in uncharted territory, literally uncharted territory, making it even more difficult than usual to predict what the opening weekend will be. Especially this far out from release with the bulk of our campaign ahead of us.
It's natural for people to want to view this and compare this to a summer blockbuster, but films in December don't have the same historical release patterns as summer films. In December it's rare to see a big debut — there's only a handful above $70 million by the way, with the record being something like $84 million. People are shopping, they're traveling, they also know that their kids are going to be on vacation in a week and they're going to all go see movies together.
As Horn points out, December is not historically known for massive opening weekends. But a holiday release can have legs. Even those who don't catch Star Wars: The Force Awakens in its first weekend might find themselves getting dragged to the theater over Christmas or New Year's. Avatar made $77 million in its opening weekend (a great number for December, but far short of the nine-figure debut predicted for Star Wars) and went on to become the highest-grossing movie of all time with $2.7 billion worldwide.
In any case, even if The Force Awakens does stop short of $300 million or $200 million or even $180 million in its domestic opening weekend, there shouldn't be any reason to worry. As we said at the top of the post, there's no doubt this movie is going to be big. And besides, there's always the international box office.