'Knight Of Cups' Trailer: The Palm Trees Tell You Everything Is Possible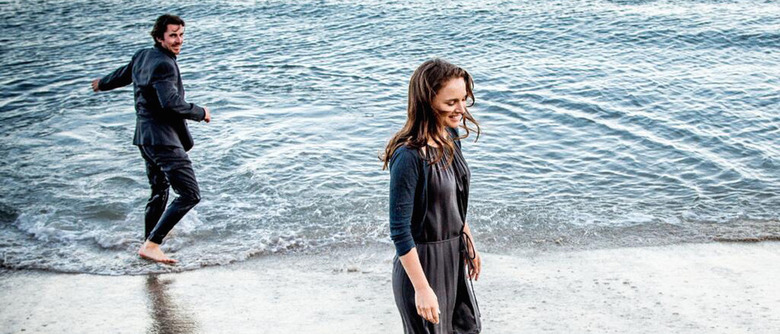 Terrence Malick's films are often quite patient in their pacing. They aren't exactly high-energy, unless you find excitement in staring off into the distance for long periods of time, caressing a lover's hand or hair, or talking about what it all means to be alive. Malick's movies are invigorating in their own way, as tone poems. However, his latest film, Knight of Cups, looks quite enthralling, in a more conventional sense.
Watch the Knight of Cups trailer after the jump.
Okay, "conventional" might have been the wrong word to describe this trailer, although you could call it that, because the footage is still almost exactly what you expect from a Terrence Malick movie: somber voiceover, grand settings, beautiful music, and snippets of beauty, joy, or pain. But maybe it's because of the Hollywood setting, the parties, and Christian Bale (The Big Short) running around with the-almost-always-awesome Imogen Poots (The Green Room), Malick's latest actually looks pretty exciting.
Here's the Knight of Cups trailer:
The film was met with a mixed response at Berlinale this year, but Knight of Cups wouldn't be a Terrence Malick picture if it wasn't divisive. Knight of Cups seems like a refreshing and slight change of pace for the director. His last effort, To the Wonder, was a minor disappointment, missing the emotion of his other work.
Here's the plot synopsis from Berlinale:
Rick is a slave to the Hollywood system. He is addicted to success but simultaneously despairs at the emptiness of his life. He is at home in a world of illusions but seeks real life. Like the tarot card of the title, Rick is easily bored and needs outside stimulation. But the Knight of Cups is also an artist, a romantic and an adventurer. In Terrence Malick's seventh film a gliding camera once again accompanies a tormented hero on his search for meaning. Once again a voiceover is laid over images which also seek their own authenticity. And once again Malick seems to put the world out of joint. His symphonic flow of images contrasts cold, functional architecture with the ageless beauty of nature. Rick's internal monologue coalesces with the voices of the women who cross his path, women who represent different principles in life: while one lives in the real world, the other embodies beauty and sensuality. Which path will Rick choose? In the city of angels and the desert that surrounds it, will he find his own way?
Knight of Cups opens in theaters March 16th, 2016.