'The Secret Life Of Pets' Holiday Teaser: Cute Creatures Get A Head Start On Their Christmas To-Do List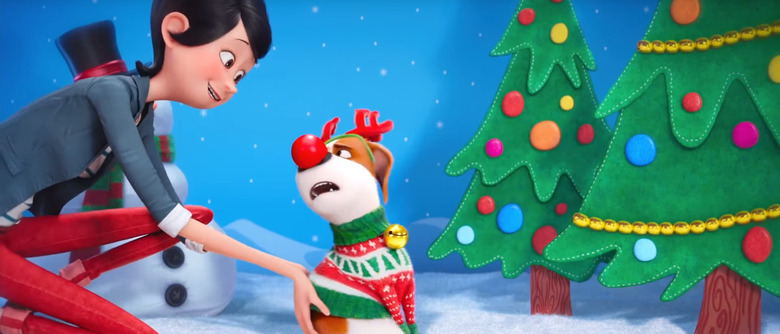 Thanksgiving isn't for another couple of days yet, but the pets of The Secret Life of Pets are getting a head start on their Christmas to-do list. Not that they seem particularly happy about it — some of them look downright distraught about posing for Christmas cards. Check out the new The Secret Life of Pets holiday teaser after the jump. 
Illumination Entertainment's The Secret Life of Pets holiday teaser has been making the rounds via YouTube.
The Secret Life of Pets holiday teaser serves as a pleasant introduction to some of the key characters. Louis C.K. voices Max the terrier, Hannibal Buress is Buddy the dachshund, Lake Bell is Chloe the cat, Jenny Slate is Gidget the Pomeranian, Kevin Hart is Snowball the rabbit, and Eric Stonestreet is Duke the giant mongrel. Steve Coogan, Ellie Kemper, Bobby Moynihan, Dana Carvey, and Albert Brooks also lend their voices to the project.
From here, The Secret Life of Pets looks neither as clever as Toy Story, nor as adorable as Despicable Me / Minions. But then again, how many movies are? The Secret Life of Pets holiday teaser should be perfectly positioned to grab the attention of families making the trek to the theater together this holiday weekend. Because while you and your relatives may not agree on religion, politics, your romantic decisions, or your career choices, everyone can agree on ooh-ing and ahh-ing over cute animals.
The Secret Life of Pets opens July 8, 2016. Chris Renaud and Yarrow Cheney directed.
Taking place in a Manhattan apartment building, Max's life as a favorite pet is turned upside down, when his owner brings home a sloppy mongrel named Duke. They have to put their quarrels behind when they find out that an adorable white bunny named Snowball is building an army of abandoned pets determined to take revenge on all happy-owned pets and their owners.