Black Friday Deals: Mondo, Gallery 1988 And Phone Booth Gallery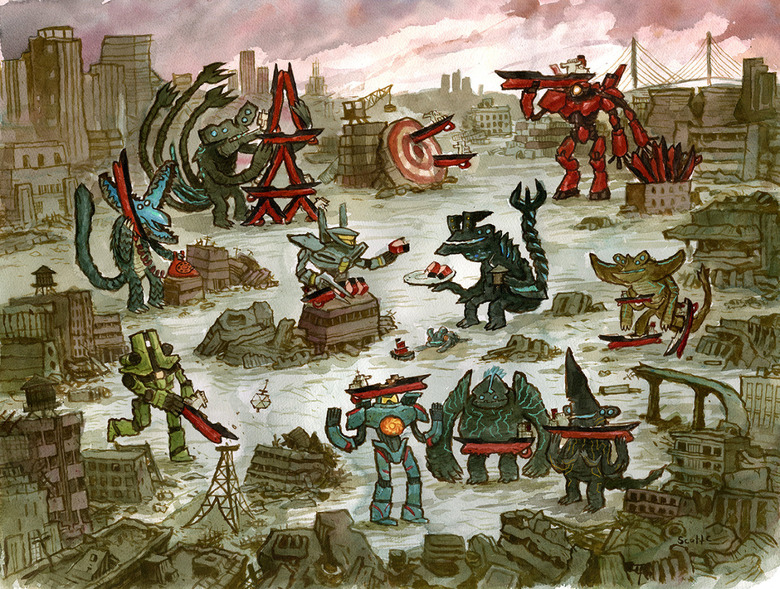 This Black Friday Deals craziness has gotten far too big to cover on this site, but I wanted to spotlight some of the pop culture screenprint deals which will be going on post-Thanksgiving. As of this morning, three of the five biggest pop culture galleries have announced a slew of Black Friday deals, including Mondo in Austin Texas, Gallery 1988 in Los Angeles California and Phone Booth Gallery in Long Beach California. Hit the jump to find out all the limited and not so limited deals you will have the chance to purchase this Friday.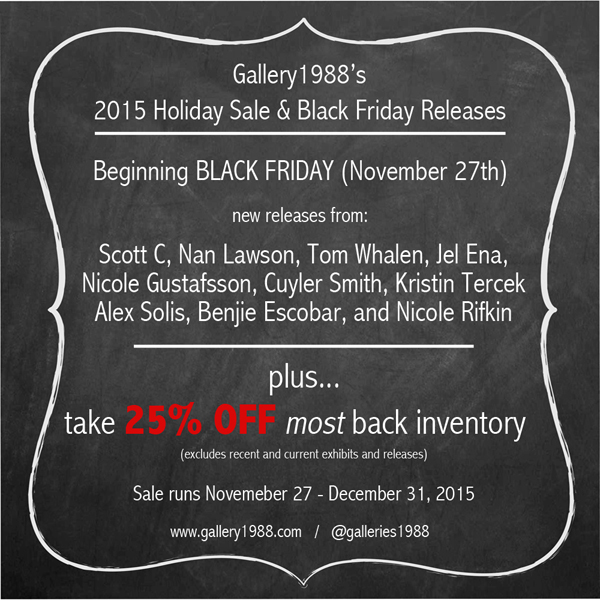 Lets start off with Gallery 1988 as they were probably there first pop culture gallery to jump into the black Friday craze. Once again they will be offering 25% off most of their back inventory (excluding only recent/current exhibits and releases). The sale will begin November 27th at midnight and ends December 31st 2015. Alongside the annual sale, Gallery 1988 will also be releasing a bunch of new sreenprints, including:
Scott C.'s Great Showdowns Holiday Print Set: 5 giclee prints sized 4.75 x 4.75 inches each in a signed and numbered edition of 100) - $75 for the set
Scott C.'s Boats for Everyone print (a print inspired by Pacific Rim): A timed release (Available to everyone who buys from 11/27 12:00 AM PT to 12/3 12:00 PM PT) for $70. Sized 24 x 18 inches, 

signed and numbered, edition TBD.
Alex Solis' 

Batman Unmasked (to celebrate his 2016 upcoming Unmasked show): A 10x10 inch 

giclee print released in a 

numbered edition of 100 for $30
Cuyler Smith's 
Cake Eater (to celebrate his upcoming 2016 trading card solo show): A 
double-sided trading card in sleeve sized 
2.5 x 3.5 inch card, 
signed & numbered edition of 100 for $15.
Nan Lawson's 

As You Wish (to celebrate her upcoming 2016 solo show): a 10 x 8 inch 

giclee print 

signed and numbered edition of 50 on sale for 

$30.00.
Nicole Gustafsson's 

What a Glorious Evening print (inspired by The Addams Family, to celebrate her upcoming 2016 solo show): a 11 x 14 inch 

giclee print which comes in a 

signed and numbered edition of 35. On sale for 

$40.00
Tom Whalen's 

Coaster Set #1: a 

set of 4 earthenware drink coasters and wood holder sized 

4 x 4 x ¼ each for 

$40.00.
Jel Ena's  

Amentia Vermiculus print (inspired by Crimson Peak, from our recent Guillermo Del Toro show): a 10 x 10 inch 

giclee print released in a 

numbered edition of 35 for only $25.
Kristen Tercek (Cuddly Rigor Mortis)'s 

Kahuna Hula: an 8 x10 inch 

acrylic on maple painting for 

$550.00.
Kristen Tercek (Cuddly Rigor Mortis)'s 

Kahuna Hula: an 8 x 10 

giclee print 

signed and numbered edition of 30 for only $25.
Nicole Rifkin's  

LA is to Die For fine art print (inspired by Six Feet Under, from G88's recent postcard show): a 10 x 8 inch 

giclee print in a 

numbered edition of 25 for $20.
And it looks like Gallery 1988 is the latest art gallery to jump on the enamel pin craze with the launch of Patti Lapel, a "new boutique label will release its first collection of strange and obscure soft enamel pins, available online at their site and exclusively in Los Angeles at G1988."
...and a new print from Benjie Escobar
And as always, Gallery1988 will be opening up their achieves of orphaned/display copies of prints previously believed to be sold out available in-gallery for those visiting G1988 (West) on Black Friday.
Gallery 1988's Black Friday sale begins online and in store (at the West location) from 11-6 PM.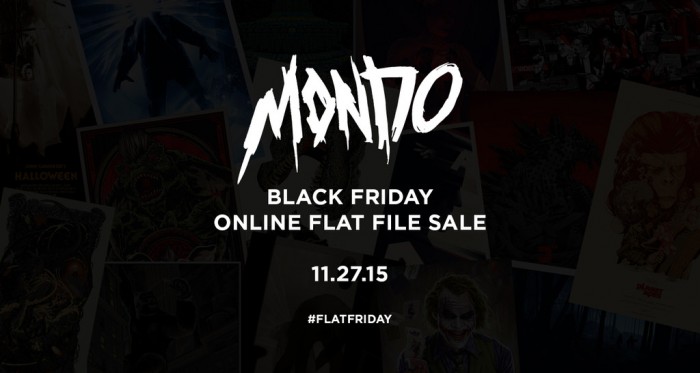 Here is what Mondo in Austin Texas has announced for Black Friday:
Since 2011, we've opened up our poster flat file a couple times a year for a sale featuring a selection of sold-out prints from our archive. This has been something offered exclusively at our gallery space in Austin – until now. This Wednesday, we'll be shutting down our site to prepare for the first online Flat File sale in the company's history, kicking off at 10AM central time on Friday, November 27th. Fans can expect over 400 different prints sold at original cost from artists like Aaron Horkey, Tyler Stout, Olly Moss, Daniel Danger, Ken Taylor, Martin Ansin, and many more. With just a few of each poster available, you'll want to be there when the Black Friday countdown clock hits zero. Flat file sales provide an opportunity for fans to purchase sold-out posters from the Mondo archive at original cost. The tradition began at our gallery in Austin, Texas where we opened up our poster flat file to local fans in between gallery exhibits. For Black Friday 2015, we're excited to present the first-ever online flat file sale for fans across the globe.
No clues on which prints will be includes in the sale other than some of the posters will date back to 2010. Some posters we'll only have a single print available, others will have a few. The sale goes live on Black Friday at 10am central time and will run through Sunday at 11:59PM CT. These prints are likely to sell very fast. Please Note that Mondo warns that adding posters to your cart does not guarantee purchase. Once an item is in your cart, you must continue to "checkout" to secure it for the allotted time. Also note that due to the number of posters available in the sale, Mondo can't guarantee that your order will be fulfilled before the New Year. So don't count on this as a Christmas gift. There is a full FAQ on their website.
And Phone Booth Gallery is also doing a "2015 Holiday Mystery Tube Sale." Here are the details from their mailing list:
"As many of you know, we have moved out of our space in Long Beach, which makes this mystery tube sale even more unique. We discovered some hidden gems during our move, so we're pulling out all the stops with rare and sold out prints, original drawings, scratch and dent, and even more surprises for everyone.
Phone Booth Gallery's mystery tubes are now available on their website. And New York based artist Billy Dyson has donated an original work of art from his latest series "Speak 2 The Dead" as a giveaway — to one lucky winner.
They will also be doing a Black Friday deal:
Early birds that purchase something between now and Black Friday will receive an additional 10% off and a Phone Booth Gallery 0.75" Pin/ and 2" Patch set available for the first time to the public, absolutely FREE (while supplies last)! Use Coupon Code: HOLIDAYPBG at checkout.