Star Wars Bits: Mark Hamill's Force Awakens Secrets, Why Kylo Ren Isn't "Evil" And More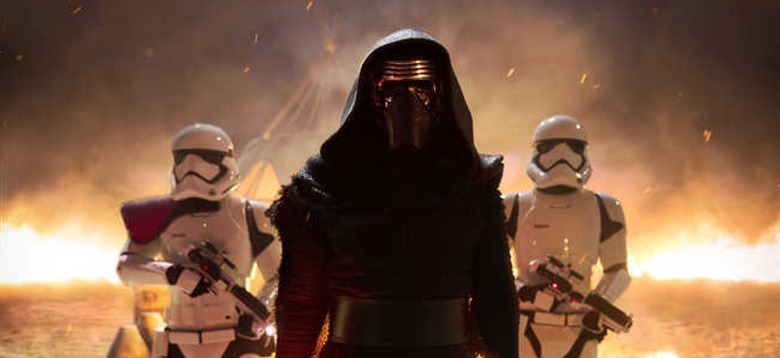 In today's edition of Star Wars Bits, we take a look at the following tidbits:
Mark Hamill possibly hints that The Force Awakens could have a huge Empire Strikes Back twist.
Adam Driver doesn't think Kylo Ren is evil, says he feels he's "morally justified."
C-3PO's Force Awakens prequel comic has been pushed back from December 2015 to February 2016.
Mark Hamill talks about how The Force Awakens will be different from A New Hope.
Star Wars Celebration Europe is SOLD OUT.
Video of the Millennium Falcon experience on the Disney Dream cruise ship.
First Order Stormtroopers are now patrolling Disneyland.
Star Wars Battlefront sequels in development?
All that and more, in today's Star Wars Bits. Hit the jump to hyperspace to find out more.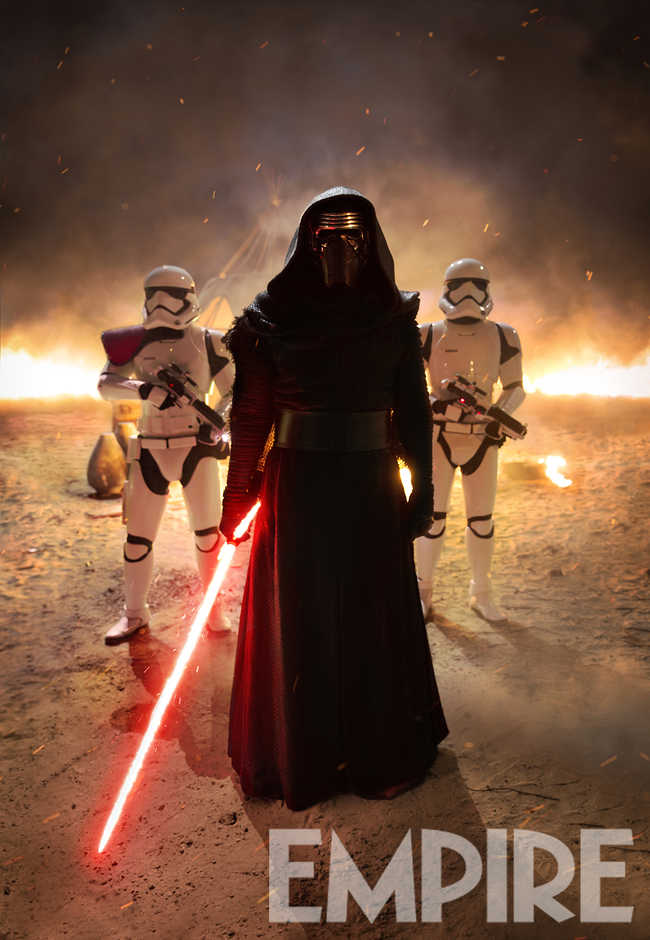 Another breakout from Empire Magazine's Force Awakens coverage is the above new photo of Adam Driver as Kylo Ren, flanked by some First Order Stormtroopers. In the published excerpt, Driver says that he sees his character as more of a religious fanatic than a traditional movie villain:
"When they think of their actions as morally justified, it makes them dangerous and unpredictable. There's no level they won't go to to accomplish what they're after. I never thought of the character as an evil person."
Sounds very topical and a reflection of our modern day real-world villains.
Elsewhere, Mark Hamill talked to PC Gamer and revealed that he is contractually not allowed to reveal any secrets about Star Wars: The Force Awakens, and if he did he would lose a large payment of money:
"I have something coming out where there's an amount of money that if it leaks because of me I don't get that payment. If I keep it a secret until the day it comes out, I get that payment." ... "I'm good about keeping secrets," Hamill said. "I'm proud of the fact that I knew a year and a half before anybody else that he was actually Dad Vader. I didn't tell Harrison or my wife."
About the big Empire Strikes Back twist, Hamill says "I couldn't believe it. I was so excited. It was just a mind-boggling plot twist ... Now it's happening all over again," which hints that The Force Awakens may have a huge twist or twists on the level of Darth Vader's reveal. But did he actually say that? He didn't per say, nor can he even tell you anything about his role in the film because he isn't allowed: "I'm not even authorized to tell you I'm in 'Episode VII,'" he said.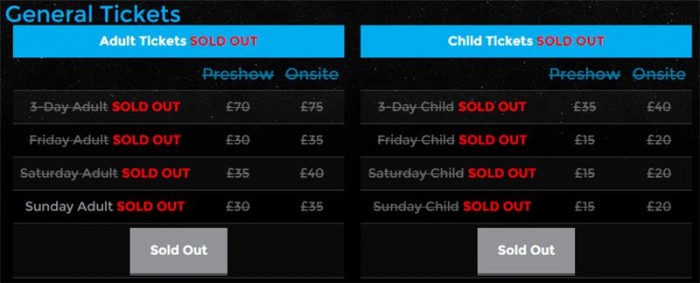 Tickets to the Star Wars fan fest Star Wars Celebration Europe are officially completely sold out.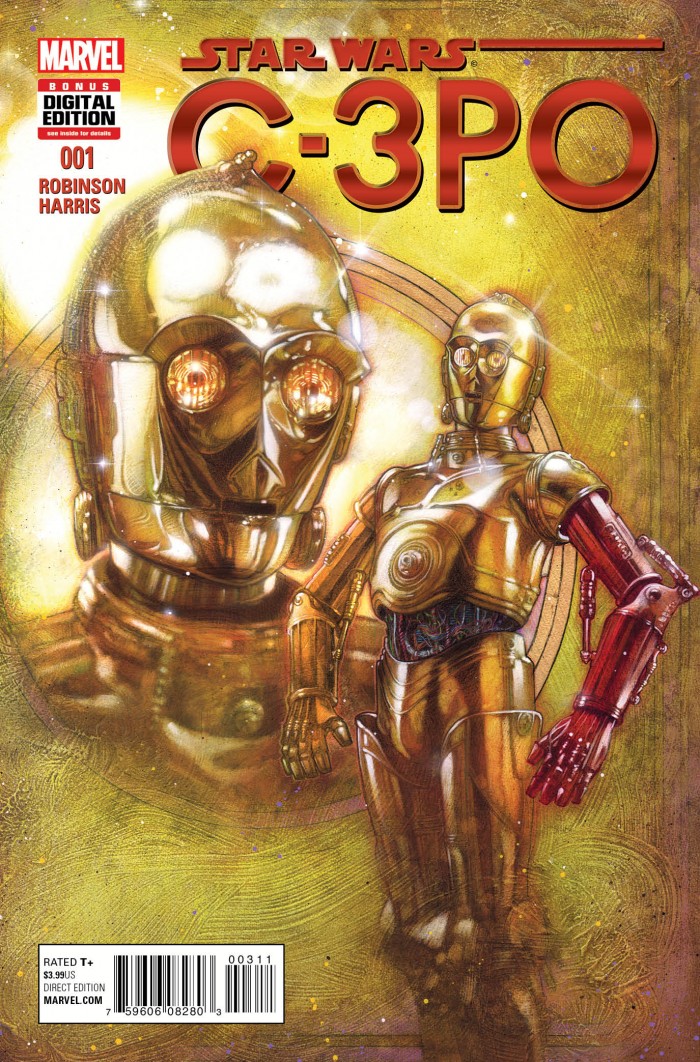 We've told you previously about the C-3PO comic book miniseries, titled simply Star Wars: C-3PO, which was supposed to explain how the droid got the red arm we see him sporting in The Force Awakens. The first issue of the story was supposed to be published a week after the movie's release (December 23rd 2015) but has been pushed back to next year (February 24th 2016).
BleedingCool broke the story and says that while there is "a natural inclination might be to blame" James Robinson and Tony Harris for the delays, they have heard from "connected source"s that this is down to "creative approvals".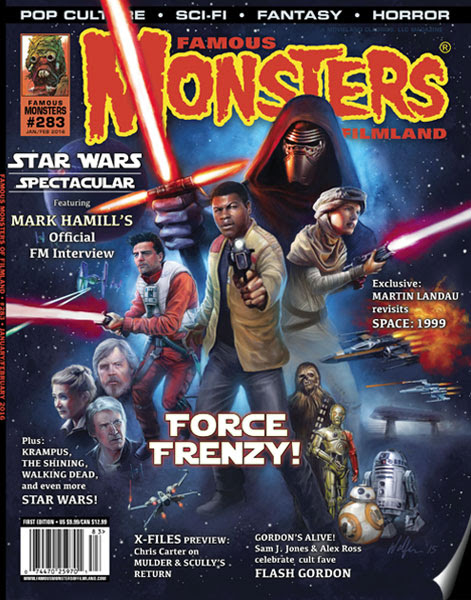 The latest issue of Famous Monsters of Filmland magazine has an interview with Mark Hamill, who gives a few details about the future of Star Wars and what its like being the same age that Alec Guinness was while filming A New Hope as he filmed Star Wars: The Force Awakens. Here are some of the highlights that FMoF has revealed:
ON THE BASIC CONCEPT OF THE FORCE AWAKENS: "It is about setting up the next generation of heroes and villains, but the fact that half a dozen cast members from the originals can be there to place it in some sort of context, to be there for the historical side of things, I think it's wonderful. ... Young people can see the progression of the characters. I'm old enough to be Luke's grandfather now, and that's a healthy, natural thing for people to see."
HOW FORCE AWAKENS WILL FEEL DIFFERENT: "I think [THE FORCE AWAKENS] could be every bit as exciting for the audience, [but] it's not going to be like it was then, when we're rattling around in the Death Star, and exchanging quips, and jockeying for the affections of the princess. It's going to be age appropriate. The story has moved on, and our purpose in the story is different than it was then."
FILMING FORCE AWAKENS AT THE SAME AGE AS ALEC GUINNESS: "Intellectually, I know I'm the same age as Alec Guinness. Emotionally, I'm thinking, "Are you kidding me?!? I still like The Three Stooges and the Rolling Stones. How could I be old?"
Disney has released a new video from the Millennium Falcon experience now on board the Disney Dream cruise line. Watch the video above. Makes me wish I could take a trip on one of these boats as a kid.
Meanwhile, InsideTheMagic has video of First Order Stormtroopers from Star Wars: The Force Awakens now on patrol at Disneyland's "Star Wars: Season of the Force". I didn't see these troopers when I was at the park the last couple weeks, so who knows when they are scheduled to make their rounds around Tomorrowland interrogating park guests.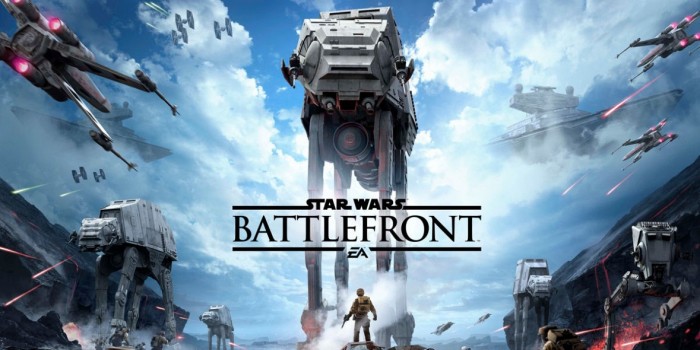 Star Wars Battlefront hit stores this week but EA and DICE are apparently already developing sequels for the video game series. EA CFO Blake Jorgensen said the following earlier this week at the UBS Global Technology Conference in San Francisco:
"It's a big effort for us, and I don't think there's a human being in the world who hasn't heard of the Star Wars movie coming. And so, [it's a] great opportunity. We struck a licensing deal with Disney a few years back that's almost ten years in length. The game that comes out tomorrow, Star Wars Battlefront, is a traditional first-person style shooter game. Our goal is to make future Battlefront games as well as other style games around the Star Wars franchise, both on mobile as well as console and PC. It's a huge opportunity for us."