'Fifty Shades Of Black' Trailer: Brace Yourself For Marlon Wayans' Inevitable 'Fifty Shades' Parody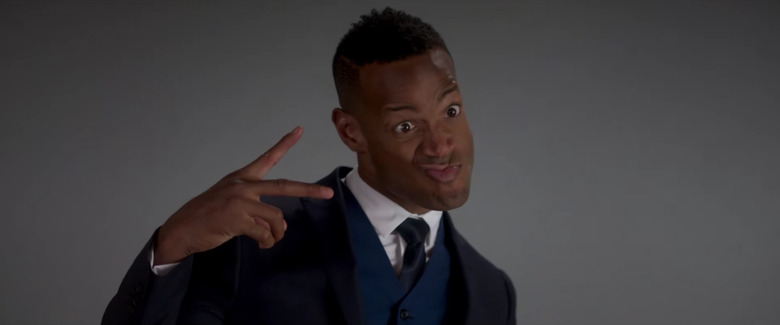 Based on the box office numbers, just about every grown-up in the world celebrated Valentine's Day this year by going to see Fifty Shades of Grey. Naturally, Lionsgate quickly moved to lock down Valentine's Day 2017 and 2018 as well, for Fifty Shades Darker and Fifty Shades Freed. But what's a Fifty Shades fan to do for Valentine's Day 2016?
Well, there are a couple of options. You could watch Dakota Johnson's vanilla romcom How to Be Single, the trailer for which debuted yesterday. Or, if you've got more, um, unconventional desires, you could check out Marlon Wayans' Fifty Shades of Grey parody, Fifty Shades of Black. Watch the trailer after the jump.
Open Road Films dropped the Fifty Shades of Black trailer on YouTube.
Fifty Shades of Black is a Marlon Wayans movie, all right, and at this point most of the moviegoing audience should know what that means. If you go in for his broad sense of humor, this should be right up your alley. If not, you probably already knew you were going to hate this trailer before you even clicked on it. I won't feign objectivity — I'm in the latter group.
When the Fifty Shades of Black trailer isn't copying its inspiration shot-for-shot, it's mostly going for the laziest gags possible. There's a reference to that Kim Kardashian "break the internet" shoot, and a nod to Magic Mike that basically amounts to "fat people, amirite?" The one inspired joke has to do with all those kinky toys in the Red Room of Pain. In this version of the Red Room, all the whips are named after films about slavery.
But look, it's easy to whine about the dumb jokes in these parodies. It's harder to come up with a comedy formula that's this effective in terms of box office. Wayans' A Haunted House 2 made nearly $24 million at the box office, or six times its $4 million budget. The first A Haunted House did even better, earning 24 times its $2.5 million budget. So if you're hate-watching the Fifty Shades of Black trailer and moaning stuff like "why, dear God, why?" there's your answer.
Fifty Shades of Black is in theaters January 29, 2016.