'A Monster Calls' Teaser Trailer: Liam Neeson Is Surprisingly Effective As A Tree Monster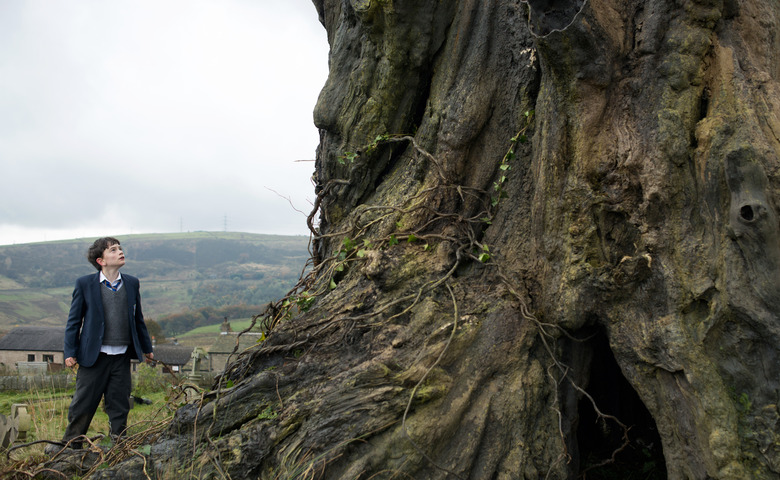 Liam Neeson can be pretty damn intimidating when he wants to be (see: his entire post-Taken career), so it's a little ironic that when he finally gets the chance to play a straight-up monster, he... actually doesn't seem scary at all. The monster of J.A. Bayona's A Monster Calls seems plenty big and creepy, sure. But he seems to be a gentler sort, more interested in rescuing lost little boys and making moviegoers cry, than he does unleashing terror upon screaming victims.
Based on the novel by Patrick Ness (who also penned the screenplay), A Monster Calls stars Lewis MacDougall as a young boy who escapes his unhappy reality by slipping into a dark fantasy world. Felicity Jones and Toby Kebbell play his parents. Watch the A Monster Calls teaser trailer after the jump.
Focus Features put the A Monster Calls teaser trailer on YouTube.
Really, I'm only cracking jokes about the relative un-scariness of Neeson in this movie because I'm reluctant to admit this 80-second teaser trailer nearly brought me to tears. Using the Cloud Atlas theme just isn't fighting fair. Say what you will about the unevenness of the movie itself, but that's one gorgeous score. And the voiceover monologue reminded me a bit of another reliable tearjerker — the "Ghost Is Seen" monologue from HBO's Enlightened. Granted, that parallel is probably accidental (there's no good reason for a children's fantasy movie to reference a little-seen HBO dramedy), but it's got the same worn-in sense of tragedy to it.
The A Monster Calls teaser trailer doesn't show that much. Aside from MacDougall and his Groot-ian buddy, we barely get glimpses of the other characters, and details about what exactly is going on are left vague. But it's enough to pique our interest, and that's enough for now. And now for the bad news: A Monster Calls won't open until October 14, 2016.
A visually spectacular drama from acclaimed director Juan Antonio Bayona ("The Impossible"), based on the award-winning children's fantasy novel. 12-year-old Conor (Lewis MacDougall) attempts to deal with his mother's (Felicity Jones) illness and the bullying of his classmates by escaping into a fantastical world of monsters and fairy tales that explore courage, loss, and faith.