'Central Intelligence' First Look: Dwayne Johnson Rocks Kevin Hart Like A Baby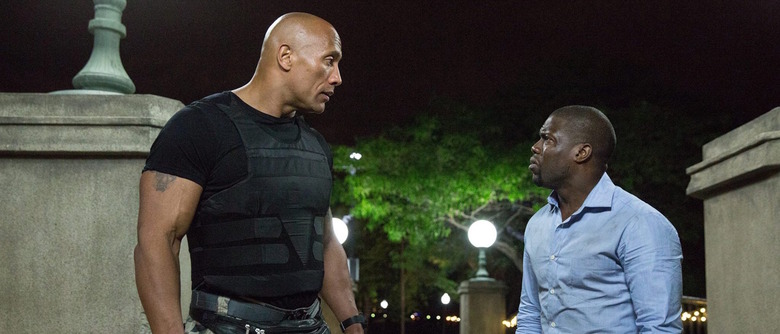 Dwayne Johnson may have the physique of an action hero, but underneath all those bulging muscles there's a comedy star just waiting to break free. Or at least that's what Dodgeball director Rawson Marshall Thurber is banking on in his new movie. Central Intelligence pairs Johnson with comedy A-lister Kevin Hart — and then has Johnson be the funny one, and Hart act as the straight man. Talk about a plot twist. Check out the first Central Intelligence images after the jump.USA Today unveiled the new Central Intelligence images.
It may not be the most sophisticated gag in the world, but the sight of the massive Johnson next to the pint-sized Hart does make for instant comedy. Of course, Central Intelligence uses that to its advantage. "With the visual alone, we had a shot at grabbing people," Johnson said in the accompanying interview. "That visual is sizzle. And now we have deliver the steak."
Johnson and Hart play Bob and Calvin, former classmates who reunite at their 20-year high school reunion. Bob, once an overweight nerd and a favorite target of bullies, is now a deadly CIA agent; Calvin, who used to be the popular kid, is now a mild-mannered accountant. When Bob is framed for a crime he didn't commit, he calls upon Calvin to help clear his name.
If Johnson's challenge was proving himself as a comedy star, Hart's was demonstrating he could not be the comedy star. "There were moments I had to pull back when I wanted to be funny. But it wasn't my role in this film. That was his role," he admitted. "It's expanding the acting portfolio I am trying to build."
We've still got a ways to go before we see how this switcheroo panned out, since Central Intelligence doesn't open until June 17, 2016. But look, if you need evidence Johnson can carry a comedy, just check out his SNL appearance from last year:
And once we've established that Johnson can and should branch out into comedies, can someone cast him in a song-and-dance musical? Pretty please? I mean, just look at this Lip Sync Battle performance: