'Star Wars: The Force Awakens' Spot Shines A Light On John Boyega's Finn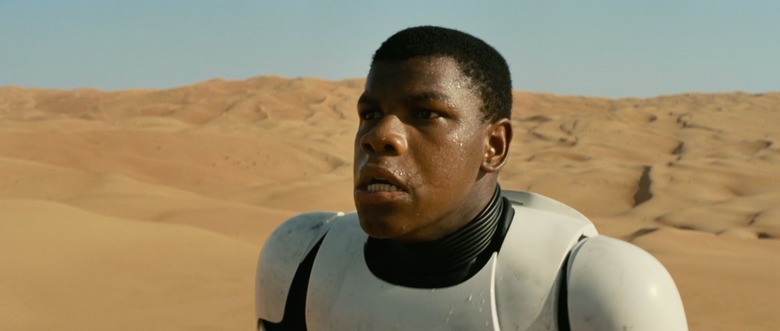 As excited as we are to see Han, Chewie, and Leia (and presumably Luke, whenever we get around to seeing him) back for Star Wars: The Force Awakens, we're also dying to spend some quality time with the new heroes of the franchise. Like Finn, the young stormtrooper played by John Boyega. His was the very first face we saw in the very first teaser trailer for the movie, but a year later, there's a whole lot we still don't know about him.
So it's a pleasure to get to know him a tiny bit better today, as a new TV spot shines a light on this brand-new badass. Don't worry – your other faves, like BB-8, make appearances too. Watch the Star Wars: The Force Awakens Finn spot after the jump.
The new Star Wars: The Force Awakens Finn spot debuted on Facebook, with the caption "Every generation has a story. Here's Finn's."
Remember when that last Star Wars: The Force Awakens trailer came out and we were all like, "Welp, guess that's just about it for new footage until December"? Yeah, it hasn't worked out that way at all. In the weeks since, we've gotten tons of new snippets here and there in the form of international trailers and TV spots. Hopefully J.J. Abrams is still keeping a few things sealed up in that mystery box of his.
There's a lot of new exciting new footage here, most of it Finn-centric. The most exciting new bit is probably Finn's face-off with that baton-wielding stormtrooper. Is it just me, or does it look somehow personal? Is that someone from Finn's stormtrooper past? Whatever is going on, that stormtrooper is not messing around.
The Finn spot alludes to his history, as it begins with him saying, "You don't know a thing about me," but refrains from offering much concrete detail. Still, it does give us a better sense of who this guy is. Apparently he's the kind of guy that, when Han Solo asks him, "Are you sure you're up for this?" answers with a very honest (and rather endearing) "Hell no."
Star Wars: The Force Awakens opens in theaters (say it with me now) Friday, December 18.