Freddie Mercury Biopic Moving Forward With 'The Theory Of Everything' Screenwriter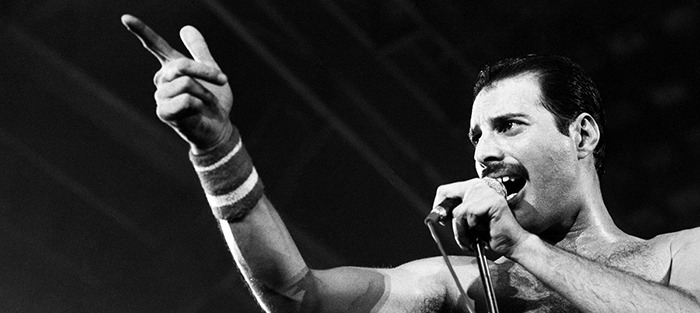 The Freddie Mercury biopic has been in development for over half a decade now. The movie appeared to pick up speed when Sacha Baron Cohen (Grimsby) became attached to the project, before departing over "creative differences." Now screenwriter Anthony McCarten (The Theory of Everything) has signed up to write the latest draft of the Sony project, which may star Ben Whishaw (Spectre).
Learn more about the Freddie Mercury biopic after the jump.
The original plan for the biopic was to cover "the band's formative years, leading up to Queen's appearance at Live Aid in 1985," without showing the singer's death in 1991. The problem, which led to Cohen's departure, was that the remaining members of Queen do not want to see a warts-and-all picture — the kind of movie Cohen wanted to make. However, the band's guitarist, Brian May, told a different story to Rolling Stone:
In the end, we felt that his presence in the movie would be very distracting. What led us to that conclusion was the last three movies that he's made – The Dictator, Les Miserables and Hugo – in which he makes outstanding performances, but they're very much Sacha Baron Cohen performances. And we thought there has to be no distraction in the Freddie movie. You have to really suspend that disbelief – the man who plays Freddie, you have to really believe is Freddie. And we didn't that could really happen with Sacha.
May's explanation for Cohen leaving the project is somewhat condescending; he's implying the actor doesn't have the range to play Mercury. Cohen's performances in Hugo and Bruno couldn't be more different. The actor also has singing chops, so he was actually an ideal choice for the role.
The man behind Borat and Bruno has wisely avoided starring in a movie every year or two, so he has the option to reinvent himself or try different things without shocking audiences. Say if the Freddie Mercury bio film came out this winter – there wouldn't be any recent comedic work of Cohen's you could compare his depiction of the Queen frontman to. Plus, if the actor was great in the role, audiences would easily accept him as Mercury.
But Cohen's out, so Sony Ben Whishaw, an excellent choice, is still the top choice for the role. According to Deadline, though, no deal has been made. No director is currently attached to the project, either. But considering Anthony McCarten is writing the script, the studio is viewing this as an awards contender, so they'll probably hire an Oscar-friendly director. If the film happens, it might be called Bohemian Rhapsody.