'The Bronze' Red-Band Trailer "Puts The Nasty In Gymnastics"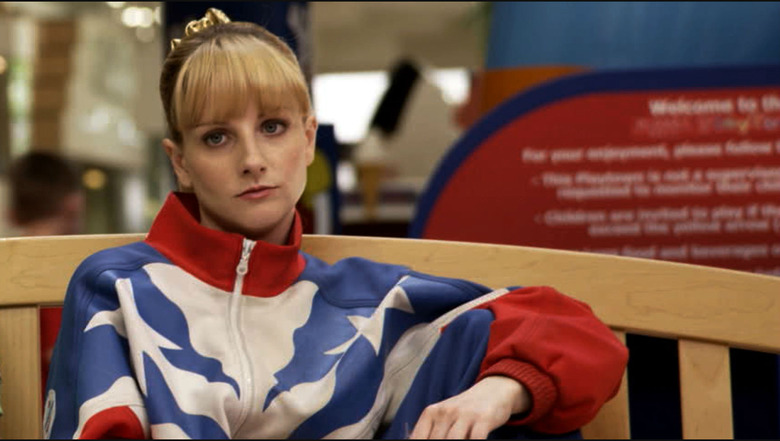 The opening night movie of this year's Sundance Film Festival was a bit of a letdown. In 2014, Whiplash kicked off the fest, starting things off with a bang. This year, though, the festival started with a whimper. Director Bryan Buckley's The Bronze is about a female antihero, which could have made for a great change of pace because we see enough terribly flawed or tortured male characters. Unfortunately, The Bronze doesn't have the laughs or sadness we expect from truly great antihero stories.
After the jump, watch The Bronze red band trailer after the jump.
Eastbound and Down is the obvious comparison to make for The Bronze. Hope Ann Greggory (Melissa Rauch) was once a promising gymnast, but she's fallen on hard times — living at home without a job or dream. Greggory is still firmly stuck in the past.
Here's The Bronze red band trailer (Source: Yahoo! Movies):
The Bronze is one of those comedies that relies on the use of the word "fuck" for a lot of its jokes. It's too broad, and it never, unlike Eastbound and Down, strikes a satisfying balance between humor and sadness. Eastbound's Kenny Powers (Danny McBride) is insecure and afraid of failing again, making the jokes funnier and sometimes sadder. The Bronze is missing that human element, despite some good performances from Gary Cole, playing Hope Ann Greggory's father, and Sebastian Stan.
At Sundance, Germain enjoyed the film more than I did:
The Bronze may get a gold medal for ambition, but the title is more accurate overall. There are a lot of good things in the movie, but they all feels at odds with each other. Either you take this wild ride and enjoy it for its absolute insanity, or you hate it for those same reasons. I, for one, fell into the first camp.
Germain also noted the film's strongest scene: an outrageous sex scene. Imagine a live-action but not quite as funny take on the sex scene in Team America: World Police. The Bronze isn't without its funny moments, but you rarely empathize with its antihero, or root for her.
Here's the official synopsis:
In 2004, Hope Ann Greggory became an American hero after winning the bronze medal for the women's gymnastics team. Today, she's still living in her small hometown, washed-up and embittered. Stuck in the past, Hope must reassess her life when a promising young gymnast threatens her local celebrity status.
The Bronze opens in theaters March 11, 2016.