'Agent Carter' Season 2 Teaser: Peggy Heads West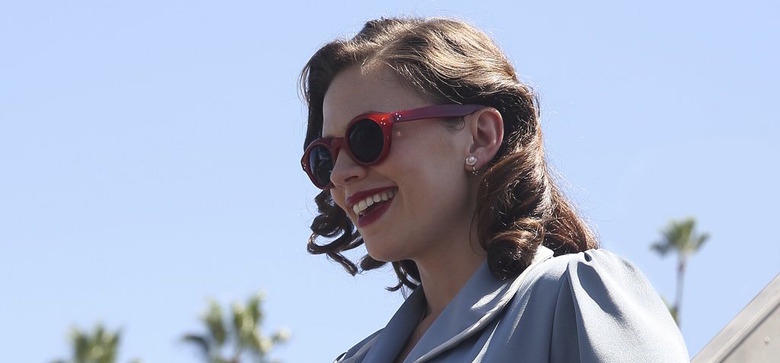 After spending much of Agent Carter Season 1 adjusting to life after World War II — and after Steve Rogers — Peggy Carter (Hayley Atwell) is off to a fresh start in the first teaser for Season 2. The next run of episodes sends her across the country to glamorous Hollywood, where she'll tangle with new foes and, by the looks of it, a new love. But she's got some old friends in tow as well, including (much to his chagrin) Edwin Jarvis, played by James D'Arcy. Watch the first Agent Carter Season 2 teaser after the jump.
Tuesday, January 5, #AgentCarter is back in action!https://t.co/MiLZmuqyrE

— Agent Carter (@AgentCarterTV) November 18, 2015
Besides Atwell and D'Arcy, Agent Carter Season 2 also sees the returns of Enver Gjokaj as Daniel Sousa, Chad Michael Murray as Jack Thompson, Dominic Cooper as Howard Stark, and Bridget Regan as Dottie Underwood. Unfortunately, Lyndsy Fonesca has not been confirmed to return as Peggy's pal Angie.
Naturally, the shiny new setting comes with some exciting new characters as well. Notable additions include Wynn Everett as Whitney Frost, Peggy's new nemesis (her supervillain identity is hinted at on that clapperboard), and Reggie Austin as Jason Wilkes, a potential love interest. There's also Ken Marino as crime boss Joseph Manfredi, Lotte Verbeek as Ana Jarvis, Kurtwood Smith as War Department vet Vernon Masters, and Currie Graham as Whitney's husband Calvin Chadwick.
Agent Carter Season 2 kicks off Tuesday, January 5 at 9/8c with a special two-hour premiere.
"Marvel's Agent Carter" returns for a second season of adventure and intrigue, starring Hayley Atwell in the titular role of the unstoppable agent for the SSR (Strategic Scientific Reserve). Dedicated to the fight against new Atomic Age threats in the wake of World War II, Peggy must now journey from New York City to Los Angeles for her most dangerous assignment yet. But even as she discovers new friends, a new home – and perhaps even a new love – she's about to find out that the bright lights of the post-war Hollywood mask a more sinister threat to everyone she is sworn to protect.