'The Huntsman: Winter's War' Full Trailer [UPDATED]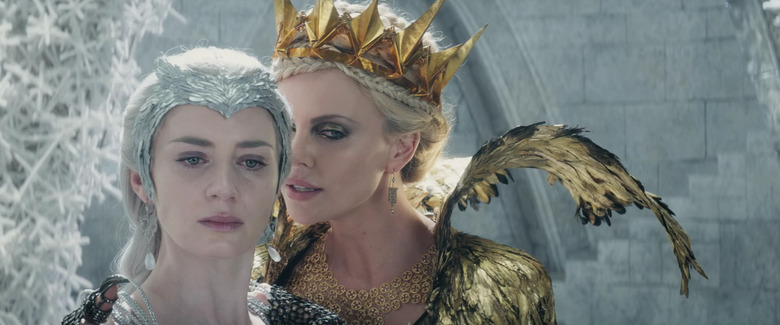 The full trailer for The Huntsman: Winter's War debuts next week, but in the meantime, Universal has released a teaser for the trailer. The sequel/spinoff features an excellent cast, which is why, after the underwhelming first film, Snow White and the Huntsman, this might actually be worth seeing.
After the jump, watch a whopping 15 seconds from The Huntsman: Winter's War.
UPDATE: Shortly after we shared the first The Huntsman teaser, the first full-length The Huntsman trailer went up. Watch it below.
The other day four new character posters featuring Chris Hemsworth (In the Heart of the Sea), Charlize Theron (Young Adult), Emily Blunt (Sicario), and Jessica Chastain (The Martian) were released. Considering the dark aesthetic of the first film, the fact that the posters weren't completely drained of color was kind of surprising. Then again, they're just posters, but even this short teaser has more sense of joy than the first movie. And, by sense of joy, I mean that Chris Hemsworth smile.
Here's The Huntsman: Winter's War teaser:
UPDATE: And here's the full-length The Huntsman trailer:
It was a smart move to make Hemsworth the lead of this sequel; he's the character you want to follow in a sequel, not Snow White (Kristen Stewart). The star of Rush and Thor is one of the highlights of Snow White and the Huntsman. The first movie is more dour and mopey than serious, but Hemsworth is a very watchable presence.
The sequel is directed by Cedric Nicolas-Troyan, who was nominated for an Academy Award for Snow White and the Huntsman. This is the visual effects supervisor's feature directorial debut.
Here's the official plot synopsis from Universal:
Long before the evil Queen Ravenna (Theron) was thought vanquished by Snow White's blade, she watched silently as her sister, Freya (Blunt), suffered a heartbreaking betrayal and fled their kingdom. With Freya's ability to freeze any enemy, the young ice queen has spent decades in a remote wintry palace raising a legion of deadly huntsmen — including Eric (Hemsworth) and warrior Sara (Chastain) — only to find that her prized two defied her one demand: Forever harden your hearts to love.
When Freya learns of her sister's demise, she summons her remaining soldiers to bring the Magic Mirror home to the only sorceress left who can harness its power. But once she discovers Ravenna can be resurrected from its golden depths, the wicked sisters threaten this enchanted land with twice the darkest force it's ever seen. Now, their amassing army shall prove undefeatable... unless the banished huntsmen who broke their queen's cardinal rule can fight their way back to one another.
The Huntsman: Winter's War opens in theaters April 22, 2016.