'Fast And Furious' Is Going To Become A Marvel-Style Shared Universe Because Obviously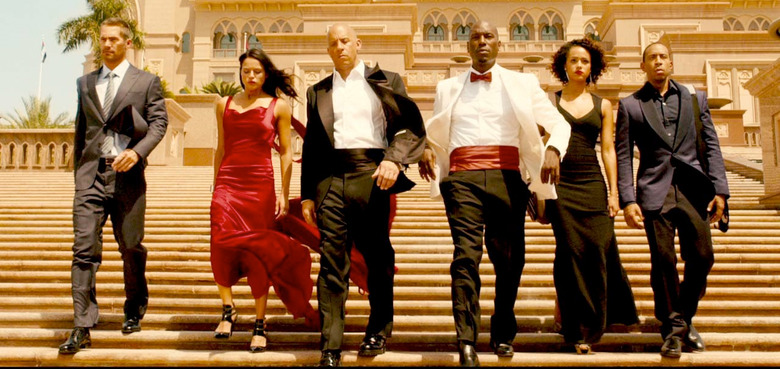 The Fast and Furious films are essentially superhero movies at this point, with Dominic Toretto and his family as the Avengers, if the Avengers' one shared superpower was the ability to break the laws of physics in really expensive cars. So it was probably just a matter of time before they borrowed another page out of the superhero movie playbook. Specifically, the one titled "Marvel-style shared universes."
Star Vin Diesel has revealed that the team behind the franchise is in the early stages of developing prequels and spinoffs. But the focus for now is on getting three more proper sequels out (including Furious 8, to be directed by F. Gary Gray). More on the Fast and Furious shared universe plans after the jump. 
Diesel spilled the beans to Variety. "We've written out story lines for various characters," he said. "We've been playing with it for a long time. It's a very rich property and we're committed to treating it with a lot of class." Diesel did not reveal which characters might get spinoffs, although the trade notes that Dwayne Johnson has expressed his desire to see his character, Luke Hobbs, go solo.
Universal Pictures chairman Donna Langley was a bit cagier, but confirmed they're looking for ways to continue the series. "We're certainly in conversations about how we can expand the franchise now," she said. "It's an ensemble cast and there's room to bring characters in and out." At present, though, the main concern is the direct sequels, which the Fast and Furious team says will take the series in a slightly new direction.
Diesel likened Furious 8 to his 2003 movie A Man Apart, which was also directed by Gray. "We have a director who is going to bring the darkness out and bring out the character," he said. Added Jeff Shell, chairman of Universal Filmed Entertainment Group, "You can't keep having every movie have bigger and bigger stunts forever and ever and ever. Eventually you have to really focus on the story. We'll still have big stunts but bringing in this amazing storyteller is going to be great."
The Fast and Furious series has only gotten bigger and bigger, with this year's Furious 7 setting the record for the fastest climb to $1 billion in worldwide grosses. (Jurassic World, another Universal picture, broke that record just a couple months later.) In all, Furious 7 grossed $1.5 billion globally — almost twice as much as its predecessor, Fast & Furious 6. Even as Shell acknowledges that "everything has an end," it's no surprise that Universal is trying to put off that end for as long as possible.
Here's the part where I'd normally argue that not every freaking movie has to be part of a "shared universe," that we don't need to know the details of every single character's origin story. But I'll confess, I'm kind of into this idea, for two reasons and two reasons only: Han and Gisele. Furious 7 just wasn't the same without them, and it'd be nice to see them return in any way possible. Which Fast and Furious spinoffs and prequels would you like to see?