New 'Vinyl' Trailer: Pure Coke, Pure Rock, And Pure Passion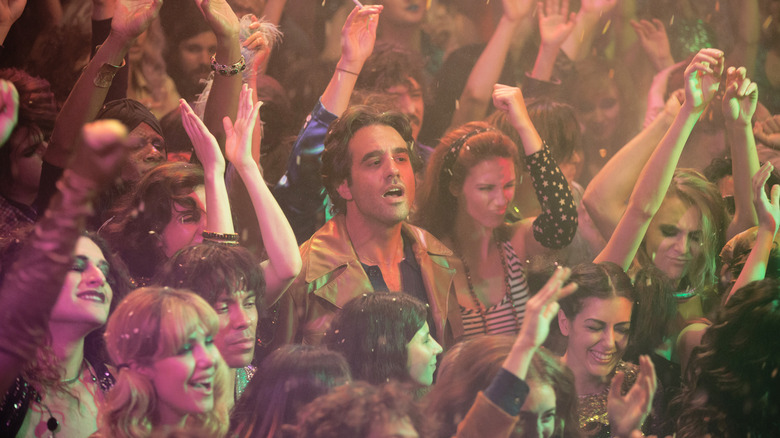 HBO is airing a couple of new shows next year worth getting incredibly excited about: a remake of Michael Crichton's 1973 sci-fi film, Westworld, and Vinyl. The latter is created by Terence Winter (Boardwalk Empire) and produced by Martin Scorsese (Goodfellas) and Mick Jagger (The Rolling Stones, duh). The last time Winter and Scorsese collaborated we got the unrelentingly giddy The Wolf of Wall Street, so these two working together again is one of the many, many reasons to watch Vinyl.
After the jump, watch the new Vinyl trail.
"Let's show people how rock 'n' roll is supposed to make you feel," record executive Richie Finestra (Bobby Cannavale) says. This trailer, like the first teaser, encapsulates rock 'n' roll with its raw, mesmerizing energy. Finestra, in 1970s New York, doesn't want to sell out, he wants to make real music again. He also wouldn't mind a few bumps of coke.
Watch the latest trailer for HBO's Vinyl:
Not only did Martin Scorsese direct the pilot, the show gave plenty of other talented directors the opportunity to recreate New York in the 1970s. Filmmakers Mark Romanek (Never Let Me Go), Carl Franklin (One False Move), and Jon S. Baird (Filth), and Peter Sollett (Raising Victor Vargas), to name a few, helmed episodes of Winter's exciting new rock 'n' roll drama. There is no shortage of talent involved in Vinyl.
Olivia Wilde plays a major role as Richie's wife Devon. Ray Romano, Juno Temple, Max Casella, P.J. Byrne, J.C. Mackenzie, and the son of Mick Jagger, James Jagger, also join Wilde and Cannavale. The first season is 10 episodes long.
Here's the official synopsis from HBO:
From Martin Scorsese, Mick Jagger and Terence Winter, this new drama series is set in 1970s New York. A ride through the sex- and drug-addled music business at the dawn of punk, disco, and hip-hop, the show is seen through the eyes of a record label president, Richie Finestra, played by Bobby Cannavale, who is trying to save his company and his soul without destroying everyone in his path. Additional series regulars include Olivia Wilde, Ray Romano, Ato Essandoh, Max Casella, P.J. Byrne, J.C. MacKenzie, Birgitte Hjort Sørensen, Juno Temple, Jack Quaid, James Jagger and Paul Ben-Victor. Executive produced by Martin Scorsese, Mick Jagger, Terence Winter, Rick Yorn, Victoria Pearman, Emma Tillinger Koskoff, John Melfi and Allen Coulter. Winter serves as showrunner.
Vinyl premieres on February 14th at 9 p.m.