'Better Call Saul' Sets Season 2 Premiere Date; See New Photos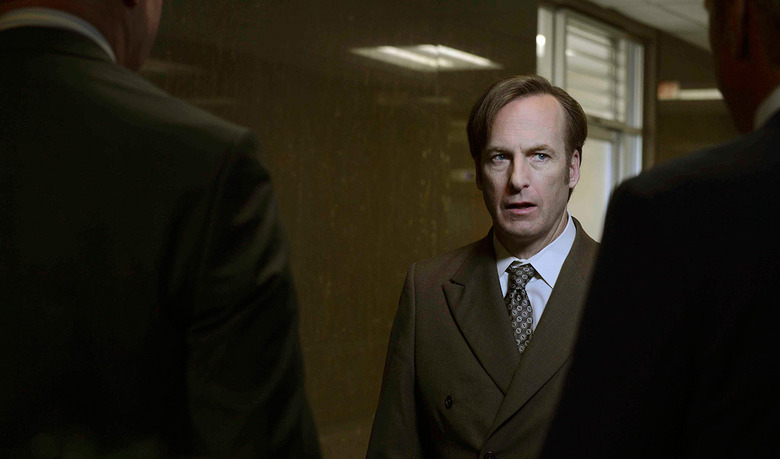 Jimmy McGill's hilarious, heartbreaking transformation into Saul Goodman will resume this winter. AMC has set a date for the second season opening of Better Call Saul, and revealed a couple new images from the season to go along with it. Get all the Better Call Saul Season 2 premiere date details, and soak in the two brand-new photos, after the jump. 
As reported by TVLine, AMC has announced that Better Call Saul will return for Season 2 on Monday, February 15, 2016 at 10/9c. Bob Odenkirk will return as Jimmy McGill, of course, and Jonathan Banks will return as Mike Ehrmentraut. We may or may not see other Breaking Bad favorites return in Better Call Saul Season 2, but according to series co-creator Vince Gilligan, Bryan Cranston's Walter White won't be one of them.
Showrunner Peter Gould teased in a statement:
Jimmy McGill's journey takes surprising, left-handed turns in Season 2 He goes to places we'd never, ever expected. As for Mike Ehrmantraut (played by Emmy nominee Jonathan Banks), he's pulled deeper into a world he was sure he'd left forever. We can't wait to share the next chapter of Better Call Saul with the fans who have embraced the show.
We haven't heard much in the way of concrete detail about Better Call Saul Season 2. But with shooting already underway in Albuquerque and now a premiere date locked in, it shouldn't be long before more info starts leaking out. In the meantime, check out two intriguing new images below. That's clearly Saul's friend Kim (Rhea Seehorn) gazing at him with disapproval in the first photo, so it seems we can expect her to return as well.
Better Call Saul's freshman season garnered high (albeit not Walking Dead-level) ratings and higher acclaim. It was nominated for seven Emmy Awards including Outstanding Drama, Outstanding Lead Actor in a Drama, and Outstanding Supporting Actor in a Drama. Though a Breaking Bad spinoff, Better Call Saul quickly became its own thing, finding a tone and storyline that felt compatible with the earlier series without simply mimicking it.
On a lesser show, the fact that we essentially know how Jimmy's attempts to go straight work out — they don't — might rob the show of its tension, but Better Call Saul mines it for tragedy. Walter White's descent into evil was sickening, in all the right ways; Jimmy's slow path to losing his soul is all the more tragic because we get to see that he tried so hard not to. Check out a previously released Season 2 teaser below.