Christopher Nolan's 'Memento' Getting Remade, Just In Case You Forgot How The First Film Went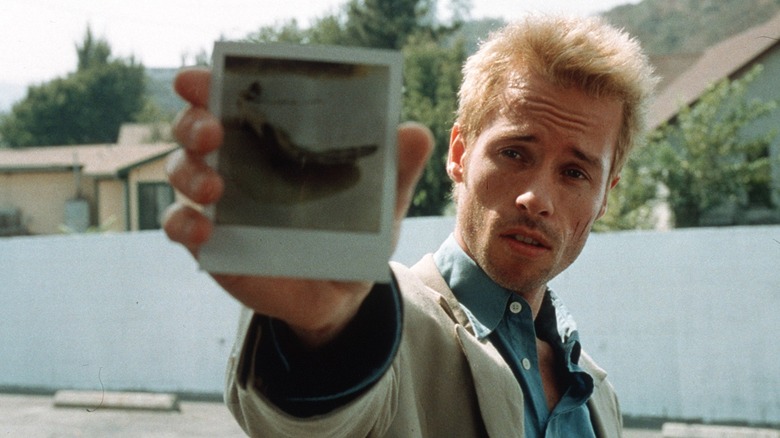 Like an amnesiac widower trying to piece together the events of his wife's death, the movie biz is retracing its steps. A remake of Christopher Nolan's Memento is now in the works, from Andrea Iervolino and Monika Bacardi's AMBI Pictures. More details on the Memento remake after the jump. 
AMBI announced the Memento remake in a press release today. The original Memento was written and directed by Christopher Nolan based a short story by his brother Jonathan Nolan. It was released in 2000 as Christopher Nolan's second feature directing effort. The $9 million film was a hit, grossing $40 million worldwide, and earned Oscar nominations for screenwriting and editing.
Guy Pearce led the film as a man trying to find his wife's killer. His quest is complicated by his unusual form of amnesia, which prevents him from forming and retaining short-term memories. The film proceeded along two parallel tracks, one in chronological order and the other in reverse chronological order. Carrie-Anne Moss and Joe Pantoliano were also among the cast.
AMBI got the rights to Memento when they acquired the Exclusive Media Group film library, which also includes Begin Again, Donnie Darko, End of Watch, Ides of March, Rush, and many more. They're also one of the companies behind NBC's planned TV sequel to Cruel Intentions, and we should probably expect to see them make use of some of those other titles soon.
Said Bacardi in a release:
'Memento' is a masterpiece that leaves audiences guessing not just throughout the film, but long after as well, which is a testament to its daring approach. We intend to stay true to Christopher Nolan's vision and deliver a memorable movie that is every bit as edgy, iconic and award-worthy as the original. It's a big responsibility to deliver something that lives up to the mastery of the original, but we are extremely excited and motivated to bring this puzzle back to life and back into the minds of moviegoers.
The knee-jerk reaction whenever any remake of a beloved film is announced tends to be one of outrage. And it is hard to argue that the world really needs a remake of Memento, when the original movie was released relatively recently, to tons of critical acclaim and pretty good box office, and in English to boot. But a lot of good films are remakes of other good films, so we'll try our best to withhold our judgment. For now. Until we forget we're trying to nice about it.
In the meantime, revisit the original Memento via the trailer below.