Danny Boyle On Why 'Steve Jobs' Flopped: It Went "Too Wide Too Soon"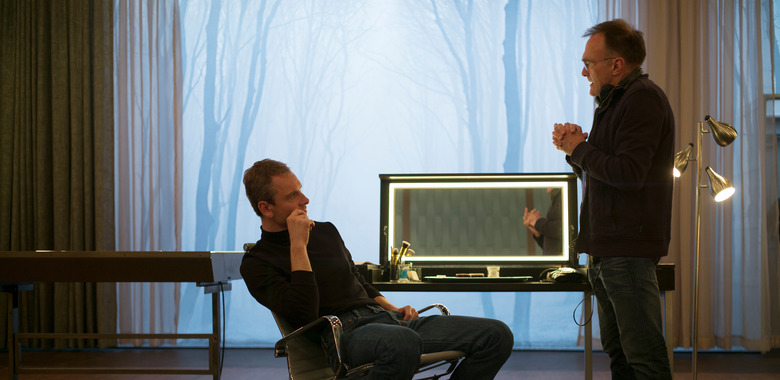 Despite an impressive cast, glowing reviews, and a promising limited debut, Steve Jobs flopped hard when it went wide. In the days and weeks that followed, pundits both amateur and professional offered their best theories on why the film had failed commercially, with explanations ranging from poor timing to a lack of star power.
Now director Danny Boyle has offered his two cents as well. As he sees it, the film rolled out wide too soon, not giving it time to build momentum. However, he's quick to clarify that he "wouldn't criticize" Universal for their strategy. 
Steve Jobs got off to a strong start on October 9, opening in four New York and Los Angeles theaters. But the film tanked when it went wide two weeks later, taking in just $7 million in its first wide-release weekend. To date, it has made only $17 million — far short of the $30 million it cost to make, and barely more than the $16 million Ashton Kutcher-starrer Jobs made in 2013.
In a conversation with the BBC, Boyle acknowledged that he was "disappointed" in Steve Jobs' box-office performance so far. "It's very easy in hindsight, but I think it's probably that we released it too wide too soon," he said. Universal, he theorized, "should have built more slowly."
It's impossible to say at this point why Steve Jobs fell so far short of expectations. Boyle isn't the only person to suggest that the film should have built more slowly, but there are also pundits who've argued the reverse — that Steve Jobs should have just opened wide from the get-go.
Still, Boyle stresses that he "wouldn't criticize" Universal for that strategy, and instead praises the studio for supporting the project after Sony dropped it last year. "Universal have been exemplary in the way they've stood up for the film, promoted [it] and supported us throughout the whole process – and I think are genuinely very proud of the film."
In any case, Boyle is already brushing himself off and getting ready to move on. His next project is his long-awaited Trainspotting sequel, which will shoot in summer 2016. The original film turns 20 in 2016.