'Suicide Squad' Producer Charles Roven Talks PG-13 Rating, Jared Leto's Joker Antics, And More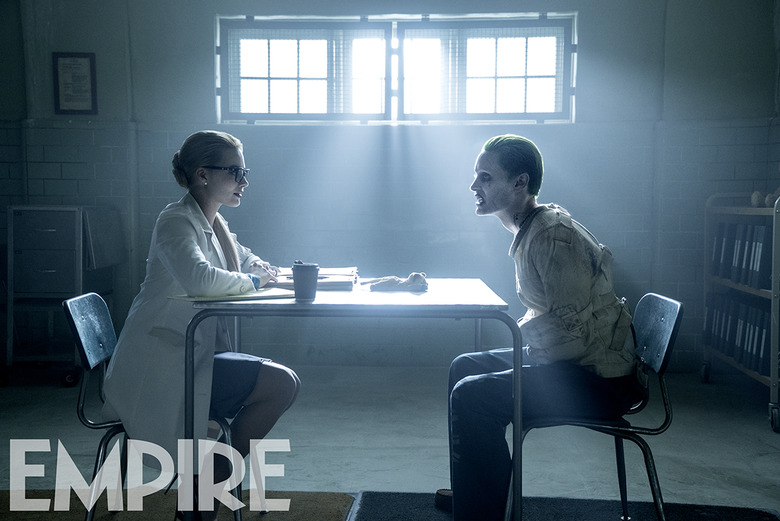 2016 won't want for superhero team-ups. Marvel is assembling most of the Avengers for Captain America: Civil War, the X-Men are coming together for Apocalypse, and DC is promising the Dawn of Justice. But if supervillains are more your style, your best bet is Suicide Squad, which brings together Harley Quinn (Margot Robbie), the Joker (Jared Leto), Deadshot (Will Smith) and many more.
At the helm of this "Dirty Dozen with supervillains" pic is David Ayer, and at his side is producer Charles Roven. In a recent interview, Roven dished about Leto's widely publicized on-set antics, the film's PG-13 rating, and more. 
Stories of Leto's Method antics on set are already legion. We've already heard that he stayed in character the whole time, going so far as to send his co-stars a dead hog and a live rat as gifts. But speaking to Collider, Roven revealed it just helped bring the rest of the squad closer together.
Look, you know, it was different, it was fun. The group first wasn't sure because the AD's had to call him 'Mr. J' to get him to come to the set [laughs]. And he did in many ways isolate himself from the rest of the group, but that's really what his character was, the purpose of his character in many ways, other than when he was with Harley or trying to get Harley. It was very entertaining, it was fuel for a lot of good sport and a lot of laughs, and his isolation bonded the squad, and we wanted the squad bonded.
In fact, Roven added, "I have to say, it was one of the most fun sets ever. I've been doing this for a while, and the camaraderie that was built on that set—everybody couldn't wait for the next day to come back to work." Normally we'd dismiss such talk as PR fluff, but we're talking about a cast that got matching tattoos to show their devotion to each other. Talk about bonding.
Despite all the reports of how "dark" Suicide Squad will be (actor Adam Beach revealed they actually had a therapist on set to help them cope), it seems reasonable to wonder if Suicide Squad ever eyed an R rating. But according to Roven, they're aiming for a PG-13.
The intention of the film is definitely to be PG-13... We really want to make these films tonally consistent so that, as I said because this is a shared universe, at least our current thinking—and again, we're not dealing in absolutes because while this is business it's also a creative endeavor, so you want to leave yourself open to changing your mind, doing something different, being inspired, that's the whole process of filmmaking is you have to allow for inspiration as well as having a road map for what you're gonna do. So our plan right now is to make all these films PG-13. In some cases, you know, right there on the edge of PG-13, but still PG-13.
Roven does leave the door open, slightly, for them to change their minds, but it doesn't sound like they're seriously considering anything but a PG-13. While some fans would no doubt prefer Suicide Squad to go as hard as possible, a PG-13 makes sense from a practical standpoint. R-rated movies don't earn as much, simply because there's a huge swath of moviegoers who aren't even allowed to buy tickets.
Besides, it's definitely possible to go dark even within the confines of a PG-13. Just look at The Dark Knight. Ayer isn't the type to shy away from disturbing or mature material (in fact, Suicide Squad will be the first PG-13 film he's directed), so we can probably trust he won't go too soft with Suicide Squad.
For much more from Roven on Suicide Squad, read the full interview at Collider. Suicide Squad opens August 5, 2016.