PHOTO: 'Beauty And The Beast' Composer Alan Menken Brings Music To Seth Rogen's 'Sausage Party'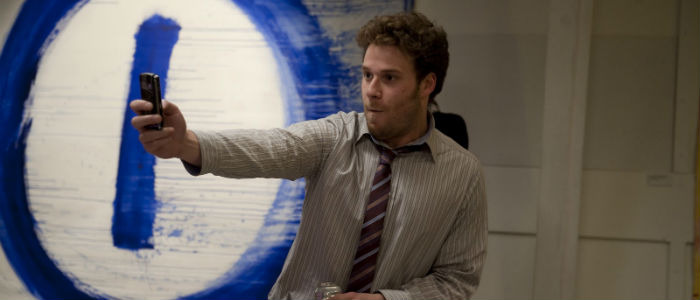 If you grew up in the '90s, you grew up listening to Alan Menken's work. The composer was behind some of the biggest hits of the Disney Renaissance era, including The Little Mermaid, Beauty and the Beast, and Aladdin, as well as non-animated classics like Little Shop of Horrors and Newsies. But the kids of the '90s have now grown up to become foul-mouthed adults, and Menken has evolved along with them.
One of Menken's latest projects is Sausage Party, Seth Rogen's R-rated animated comedy. Rogen recently shared a photo from their collaboration to give us just a tiny idea of what this completely bizarre-sounding feature has in store for us. Check it out after the jump. 
Rogen shared a page from the Alan Menken Sausage Party sheet music on Twitter.
Doing some recording on #SausageParty pic.twitter.com/C5rOv5N9fL

— Seth Rogen (@Sethrogen) November 11, 2015
Menken's involvement in Sausage Party was announced some time ago, but the photo gives us a better idea of what to expect from it. The song, titled "The Great Beyond," opens with the lyric "Dear gods, you're so divine," apparently sung by "Corn" in the style of Rodgers & Hammerstein's Oklahoma. Then "Mushroom," described as a "tripped-out acid-head / Grateful Dead dude" chimes in.
"Corn" and "Mushroom" aren't just nicknames, by the way. Sausage Party follows food items in a grocery store, who spring to life when customers aren't looking, Toy Story-style. Here's how Rogen described the plot last year:
It's about food in a grocery store that believes when you get purchased all your wildest dreams come true. They don't realize that you get eaten. And its about them slowly realizing what happens in their after life. It's kind of like Toy Story, it's a journey — they're trying to get from one end of the store to the other. It's f***ing crazy, it's nuts.
The "gods" referred to in the song are humans, and the food items believe that once they're selected the "gods" will whisk them off to "The Great Beyond." What exactly "The Great Beyond" is is the source of much speculation. Some of the sausages, for example, believe that in The Great Beyond, they'll finally get to have sex with the buns across the aisle.
Rogen voices a hot dog named Frank, who finally gets chosen — but then falls out of the shopping cart, sending him and his friends scrambling to get back to their aisles before the Fourth of July sale. "We thought it would be funny to do an R-rated Pixar-style movie," Rogen said. "It's f***ing filthy. It's really really really dirty but it looks like a Pixar movie."
Menken's recent work includes Enchanted, Tangled, and Mirror Mirror, as well as ABC's offbeat musical comedy Galavant. He has also written new songs for Disney's upcoming live-action adaptation of Beauty and the Beast, due out in 2017.
Sausage Party brings Rogen back together with a lot of his usual collaborators. The voice cast includes James Franco, Jonah Hill, Paul Rudd, Danny McBride, Craig Robinson, Nick Kroll, David Krumholtz, Bill Hader, Edward Norton, Salma Hayek, and Kristen Wiig. Directed by Greg Tiernan and Conrad Vernon, Sausage Party arrives August 12, 2016.