'Snowpiercer' On Track For TV; 'Sarah Connor Chronicles' Creator Josh Friedman To Write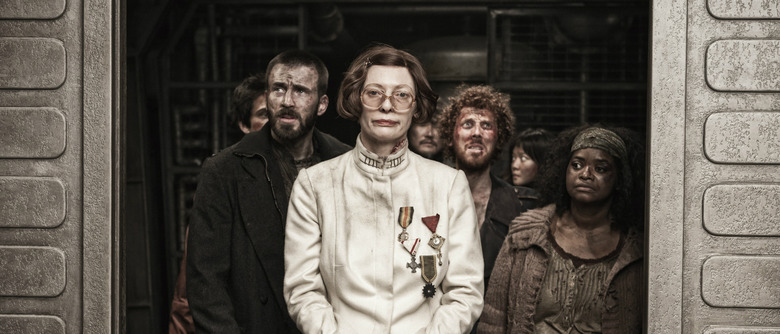 Bong Joon-ho's Snowpiercer has criss-crossed the globe and come all the way back around to Hollywood. A Snowpiercer TV series is now in the works, with Terminator: Sarah Connor Chronicles creator Josh Friedman set to write. Bong and Oldboy director Chan-wook Park, who produced Snowpiercer, will executive produce the show.THR broke news of the Snowpiercer TV series. The 2014 film took place in a new Ice Age brought about by a misguided attempt to stop climate change. The only life remaining on Earth are the passengers aboard the Snowpiercer, a train powered by a perpetual motion engine. The train is divided via a rigid class-based system, and the story follows some of the poorest inhabitants from the tail section as they rise up against the wealthiest inhabitants in the front. The star-studded cast of the movie included Chris Evans and Tilda Swinton.
While it didn't do big numbers at the U.S. box office, Bong's Snowpiercer was a hit on VOD and earned tons of critical raves. It also did well in other countries, becoming one of the biggest films of all time in Bong's native Korea. All of which is to say that a Snowpiercer TV series falls right in with TV's current craze for new adaptations of popular pre-existing properties.
The Snowpiercer TV series is being produced by Marty Adelstein's Tomorrow Studios, which has also been behind MTV's Teen Wolf and ABC's Last Man Standing. In addition to Adelstein, Bong, and Park, Becky Clements and Snowpiercer producer Dooho Choi will serve as executive producers. No TV network is currently attached.
Said Friedman:
I couldn't be more excited for the opportunity. Marty and Becky are the perfect partners to help me bring this world to TV. I'm a huge fan of director Bong's films, especially Snowpiercer. It's great the way the best sci-fi is great — thoughtful, political, funny, scary and sly. And it's on a train. A big f—ing train. What more could you want?
On the one hand, it's not all that difficult to imagine how a Snowpiercer TV series would work. The film picks up 17 years after the titular train begins its endless journey, and only focuses on a small group of passengers. If the TV show can figure out how to keep the enclosed setting from getting too claustrophobic, there's plenty more material to be mined from its grimy nooks and crannies.
On the other, Bong's Snowpiercer was such a singular experience that a TV rehash seems unnecessary. Sure, you could dig into all the backstories, but part of the beauty of Snowpiercer was how simple it was. We knew what we needed to know about the setting and characters, no more and no less. And then there's the matter of casting. What's Snowpiercer without Tilda Swinton as the repulsive yet mesmerizing Mason, or Allison Pill as the schoolmarm who is as creepy as she is cutesy?
On the other other hand, Bong's Snowpiercer was itself an adaptation, of the French graphic novel Le Transperceneige. It seems churlish to complain that the story is now getting adapted into another new medium. And who knows? Plenty of people who were skeptical about the idea of a new Terminator TV series wound up falling in love with Friedman's Sarah Connor Chronicles. Hopefully he'll be able to work a similar magic with Snowpiercer.
Bong, meanwhile, is also hard at work putting the pieces together for his next big-screen effort. Earlier this week we heard Netflix was forking over $50 million so he could make Okja, a Korean-American monster movie with Jake Gyllenhaal and Tilda Swinton.