Enjoy A Shia LaBeouf Movie Marathon With Shia LaBeouf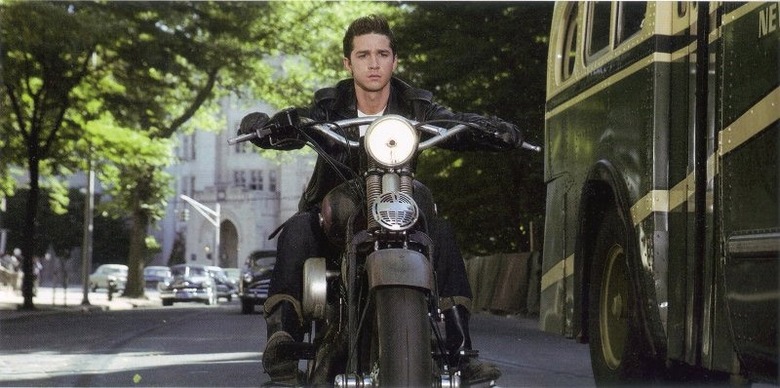 Shia LaBeouf has become quite the performance artist over the past few years. People possibly talk more about his live-performances — the "I am not famous anymore" bag on his head, for example, or him sitting in a room all day as strangers come in and say what they please — than his actual big-screen performances. The guy's doing something right, because he has our attention. Now, for the next few days, you can watch a live-stream of his latest project.
Learn more after the jump.
For three days at the Angelica Film Center, in New York, LaBeouf will be watching his entire filmography. Whoever has the time to come join him is invited to attend. #ALLMYMOVIES by LaBeouf, Rönkkö & Turner began just this afternoon (via Film School Rejects).
Here's the official information the #AllMyMovies page (where you can watch the live-stream):
From noon on 10th November 2015, #ALLMYMOVIES by LaBeouf, Rönkkö & Turner will commence
at the Angelika Film Center, 18 West Houston Street, NYC.
Visitors are invited to join Shia LaBeouf in person as he watches all his movies consecutively in
reverse chronological order over the next three days, 24 hours a day (admission free).
At the same time, a live stream will continuously broadcast the performance above.
Right now, LaBeouf is surrounded by people, enjoying his popcorn and, occasionally, appearing to enjoy himself. The point of this experiment? No clue. Maybe LaBeouf is studying his performances, trying to see what works or doesn't about his own work?
Here's the full schedule:
11/10 12:00 p.m. Man Down
11/10 1:30 p.m. Fury
11/10 3:45 p.m. Nymphomaniac Volume 1
11/10 5:45 p.m. Nymphomaniac Volume 2
11/10 7:45 p.m. Charlie Countryman
11/10 9:30 p.m. Company You Keep
11/10 11:30 p.m. Lawless
11/11 1:30 a.m. Transformers: Dark Side of the Moon
11/11 4:00 a.m. Wall Street: Money Never Sleeps
11/11 6:10 a.m. Transformers: Revenge of the Fallen
11/11 8:40 a.m. Eagle Eye
11/11 10:40 a.m. New York, I Love You
11/11 12:20 p.m. "Indiana Jones: Kingdom of the Crystal Skull
11/11 2:20 p.m. Transformers
11/11 4:50 p.m. Surf's Up
11/11 6:20 p.m. Disturbia
11/11 8:05 p.m. Bobby
11/11 10:05 p.m. Guide to Recognizing Your Saints
11/11 11:45 p.m. Greatest Game Ever Played
11/12 1:45 a.m. Constantine 
11/12 3:45 a.m. I, Robot
11/12 5:45 a.m. Battle of Shaker Heights
11/12 7:05 a.m. Charlie's Angels Full Throttle
11/12 8:50 a.m. Dumb and Dumberer: When Harry Met Lloyd
11/12 10:20 a.m. Even Stevens Movie
11/12 11:50 a.m. Holes
11/12 1:50 p.m. Monkey Business
11/12 3:20 p.m. The Christmas Path
11/12 4:55 p.m. Nausicaa of the Valley of the Wind
If you can find a way to get out of work on Thursday and experience Indiana Jones and the Kingdom of the Crystal Skull with LaBeouf, you should. I certainly plan on checking out the live-steam when LaBeouf gets to that sequel, which he's expressed dissatisfaction with in the past.