'Finding Dory' Trailer: Pixar's Most Forgetful Heroine Sets Out On An Unforgettable Adventure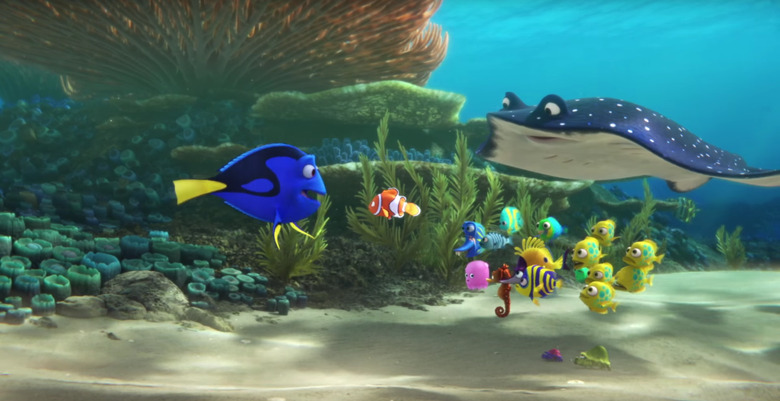 The first Finding Dory poster, released yesterday, riffed the forgetful fish's oft-repeated mantra: "Just keep swimming, just keep swimming..." Now the Pacific regal blue tang has swum all the way to YouTube, where Pixar has unveiled the first official Finding Dory trailer. Ellen DeGeneres returns as Dory, and Albert Brooks as Marlin. Watch the Finding Dory trailer after the jump. 
DeGeneres debuted the first Finding Dory trailer on her YouTube channel.
Although Finding Dory arrives 13 years after the release of Finding Nemo, it takes place just a few months later. A minor trauma triggers Dory's memory, and she suddenly has an urge to return home to her family. Her journey takes her all the way from the Great Barrier Reef, where she's been living with Marlin and Nemo, to the Monterey Marine Life Institute in California.
Marlin and Nemo tag along for the ride, and along the way they encounter a whole new cast of characters. Those include Hank, a "cantankerous octopus" voiced by Ed O'Neill; Bailey, a "misguided beluga whale" voiced by Ty Burrell; and Destiny, a "kind-hearted whale shark" played by Kaitlin Olsen. Diane Keaton and Eugene Levy voice Dory's parents Jenny and Charlie.
In addition, we've previously heard that Willem Dafoe would reprise his Finding Nemo role as Gill, the Moorish idol Nemo met in the the Sydney dentist's office. Idris Elba and Dominic West are also believed to be part of the cast, although character details remain under wraps.
You'll have to wait a while to meet most of Dory's new friends, but you can get a first look at Hank below from D23: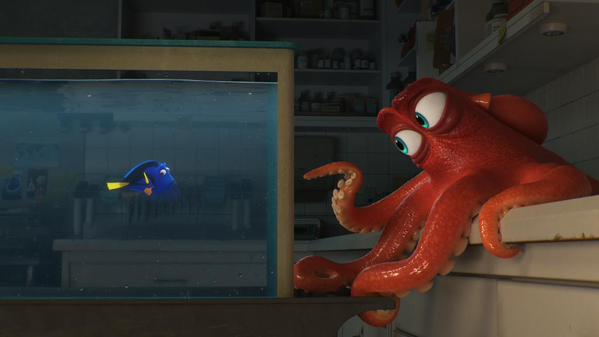 Directed by Andrew Stanton, Finding Dory splashes into theaters June 17, 2016. Here's the official synopsis from Pixar:
Disney•Pixar's "Finding Dory" reunites everyone's favorite forgetful blue tang, Dory, with her friends Nemo and Marlin on a search for answers about her past. What can she remember? Who are her parents? And where did she learn to speak Whale?