'Baywatch' Female Lead Goes To Alexandra Daddario [UPDATED]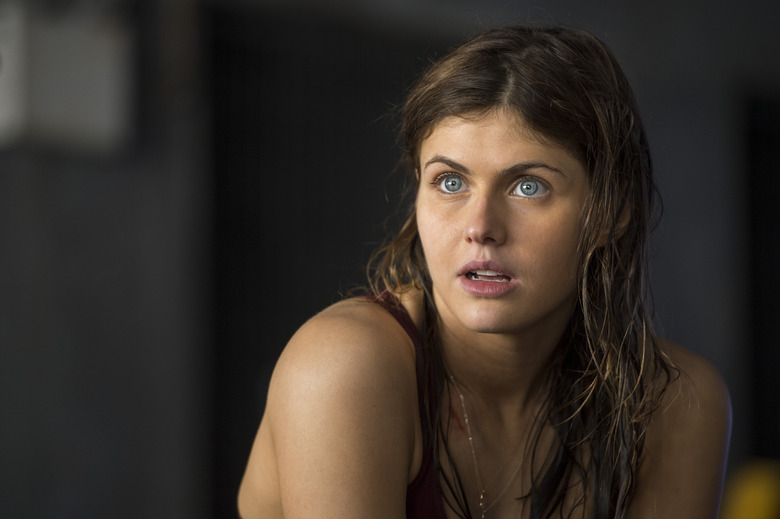 UPDATE: Deadline reports today that Daddario has won the female lead role of Summer, a lifeguard and love interest to Zac Efron's character. Original story from November 9, 2015 follows.
After setting Dwayne Johnson and Zac Efron for the male leads over the summer, Paramount's Baywatch reboot dove deep into the casting pool to find a female lead. Now it's resurfaced with a list of seven possibilities, including Alexandra Daddario (San Andreas), Ashley Benson (Spring Breakers), and Alexandra Shipp (X-Men: Apocalpyse). Read the Baywatch female lead shortlist after the jump. 
Deadline picked up the shortlist for the Baywatch female lead. The trade notes that some of these women could wind up in different roles if they don't get the lead, and also that other names could enter the mix before casting is finalized. But for now, here are the actresses we know are in contention:
Alexandra Daddario earned critical buzz for her role in Season 1 of True Detective, and starred alongside Johnson in this summer's San Andreas.
Ashley Benson is a regular on ABC Family's Pretty Little Liars, which returns for Season 7 next year. Her film credits include Pixels and Spring Breakers.
Nina Dobrev recently left The CW's Vampire Diaries, following its seventh season, and was seen last month in The Final Girls.
Alexandra Shipp played Ice Cube's wife Kim Woodruff in this summer's Straight Outta Compton, and will play Storm in next year's X-Men: Apocalypse.
Shelley Hennig joined MTV's Teen Wolf in Season 3. She had a supporting role in last year's Ouija and a lead role in this year's Unfriended.
Bianca Santos starred in The Duff and Ouija and had a recurring role on ABC Family's The Fosters. She led the short-lived MTV series Happyland.
Denyse Tontz's credits include the soap All My Children, Nickelodeon's Big Time Rush, Disney Channel's Dog With a Blog.
Baywatch stars Johnson as serious-minded, by-the-book lifeguard who's forced to join forces with a young hothead (Efron) in order to save an oil tycoon from wreaking environmental devastation on their beach. It aims to be what the 21 Jump Street movie was to the 21 Jump Street TV series — an action comedy that lovingly pokes fun at the original.
Seth Gordon is directing from a script most recently reworked by Damian Shannon and Mark Swift. Beau Flynn and Ivan Reitman are producing. Shooting on Baywatch is expected to begin in early 2016.