Brian De Palma's Next Film Is Chinese Thriller 'Lights Out'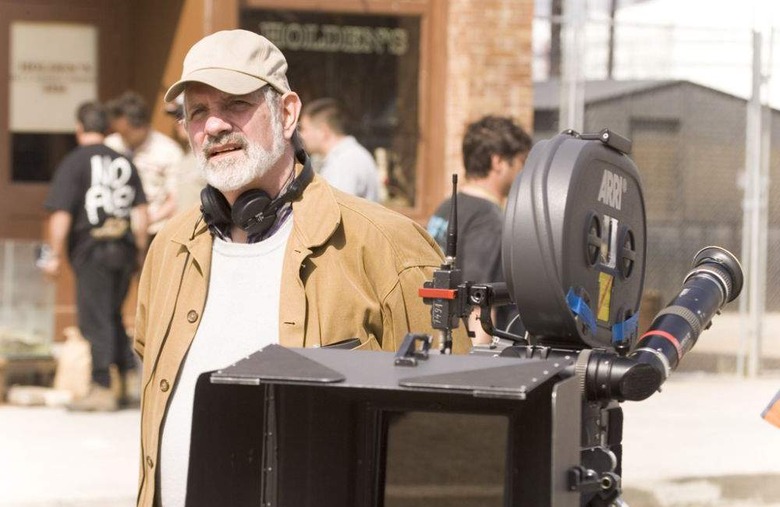 Brian De Palma has been attached to quite a few promising projects over the years. Most exciting of all, the director was going to reunite with his Scarface and Carlito's Way star, Al Pacino, for a film about coach Joe Paterno. Whether De Palma is still involved with Happy Valley is unknown, and the same can be said for The Key Man and Heat. But we do know the director is now moving forward with Lights Out, a thriller set in China.
Learn more about Lights Out after the jump.
As reported by The Film Stage, the thriller will be De Palma's next film. Written by Lamont Magee and Jeff W. Byrd, Lights Out is about "a blind Chinese girl unknowingly caught in a plot to expose a top-secret assassination program. Although blind, she is able to use her other heightened senses to fight back and become a hero."
Produced by China's Huace Pictures and Arclight Films, De Palma and his producers are currently seeking an A-list Chinese actress for the lead role. Producer Ying Ye had this to say about Lights Out:
De Palma is a proven master of suspense; in the hands of the legendary director, Lights Out promises to be a thriller for the ages, full of empowering messages, harrowing plot turns and great action sequences.
De Palma hasn't made a movie for the ages in a long time, but he's been turning out fun, gleeful films over the past couple decades or so, with the disappointing exception of The Black Dahlia – a pretty good movie until that disastrous third act. The director behind The Untouchables, Blow Out, and Dressed to Kill has almost always been a divisive filmmaker, with very vocal supporters and detractors.
Two of the filmmaker's biggest fans? Directors Noah Baumbach (Mistress America) and Jake Paltrow (The Young Ones). Baumbach and Paltrow directed a career-spanning doc on the legendary filmmaker, which will be released sometime next year by A24. Any De Palma fan should be dying to see it.
As for Lights Out, the director will surely take advantage of those Chinese locations. De Palma will probably have some fun with the sound and aesthetic of the picture, painting the "heightened senses" point-of-view of the protagonist. It's been a while since the director has made a truly suspenseful movie, so hopefully this thriller will be a return to form in that regard. He's made plenty of enjoyable movies in the past 20 years, but nothing quite as frightening or as intense as his early work.