'John Wick' Sequel Will Make New Friends, But Keep The Old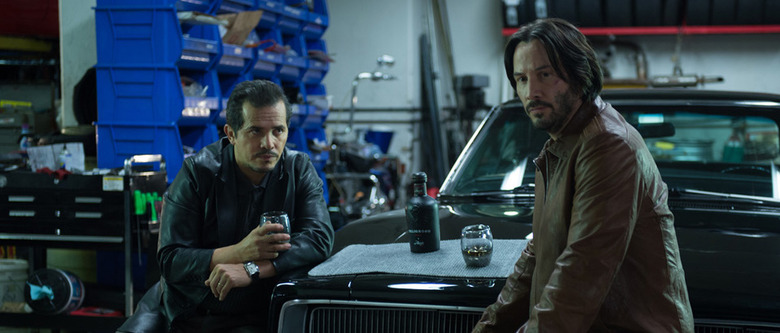 John Wick isn't the only one who's thinking he's back for the sequel. Bridget Moynahan, John Leguizamo, and more have been set to reunite with Keanu Reeves for the new film. And people person that he is, John Wick will be making a bunch of new friends and/or foes as well. Such as ones played by Fargo's Peter Stormare and Orange Is the New Black breakout Ruby Rose.
Get the rundown on the John Wick sequel cast after the jump. 
Deadline reported the news. Besides Reeves as John Wick, John Wick 2 will see the return of Moynahan as John's wife Helen, Leguizamo as chop shop owner Aurelio, Thomas Sadoski as police officer Jimmy, Lance Reddick as Continental Hotel concierge, and, as previously reported, Ian McShane as Continental Hotel owner Winston.
Common is set to play the villain, who works for a female crime lord who's out to get John Wick. Details on the other new characters played by Rose, Stormare, and Riccardo Scamarcio (Burnt) have not been revealed.
Details on John Wick 2 are being kept under wraps, aside from the fact that — to the relief of animal lovers everywhere — the film
will not kill off another adorable puppy
. Reeves has, however,
about the film's overarching themes:
I think we have a really good premise, and it's an organic premise. It's basically — to me there's John Wick and then there's John. You know, John is the married guy whose wife just died, and that five years of his life. Then there's John Wick, who's the mythical assassin. In this, John Wick's past comes and infiltrates John's life and John Wick, in a way, has to fight for John.
Chad Stahelski will helm John Wick 2 by himself, as his co-director on the first film, David Leitch, recently departed for The Coldest City. Leitch will still serve as executive producer, and Basil Iwanyk as producer. Derek Kolstad, who scripted John Wick, has also penned the sequel.
Shooting on John Wick 2 is already underway in New York, and will move to Rome next year. No release date has been announced.