Sorry America, No Hans Zimmer Tour For You [VIDEO]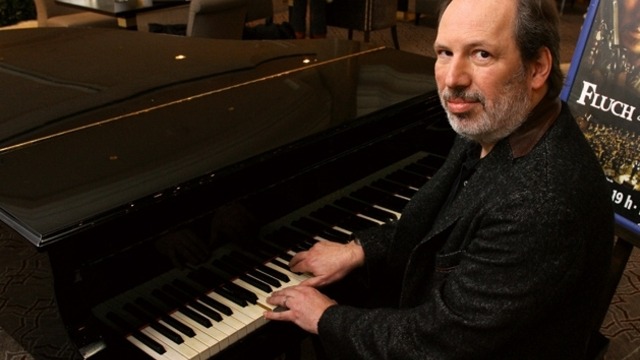 Hans Zimmer is going on tour. When I heard this fantastic news, I quickly dropped what I was doing to look up the tour dates. To my great disappointment, none of the concerts are in the States. If you live in Europe, though, you're in luck, because that's where the composer behind Inception, True Romance, The Thin Red Line, Crimson Tide, Rain Man, and Megamind will be conducing live-performances.
Learn more about the European Hans Zimmer tour after the jump.
This will mark the composer's first-ever tour, something he's been itching to do for a long time now. Zimmer had this to say in a press release:
Performing a tour like this is something that I have always wanted to do, and I am thrilled that the time has finally come. I am very excited to get some of my very talented friends together and give our audiences an experience unlike any concert they have ever been to before.
The tour lasts a bit over a month, starting on April 6, 2016. Here's where Zimmer and his orchestra will be playing:
04/06 – London, UK @ The SSE Arena, Wembley
04/12 – Birmingham, UK @ Barclaycard Arena
04/14 – Brussels, BE @ Palais 12
04/16 – Mannheim, DE @ SAP Arena
04/18 – Hamburg, DE @ Barclaycard Arena
04/20 – Berlin, DE @ Mercedes-Benz Arena
04/22 – Oberhausen, DE @ König Pilsener Arena
04/23 – Paris, FR @ Palais Des Congres
04/24 – Paris, FR @ Palais Des Congres
04/26 – Munich, DE @ Olympiahalle
04/30 – Gdansk, PL @ Ergo Arena
05/01 – Lodz, PL @ Atlas Arena
05/03 – Krakow, PL @ Tauron Arena
05/05 – Bratislava, SK @ Slovnaft Arena
05/07 – Prague, CZ @ O2 Arena
05/09 – Zurich, CH @ Hallenstadion
05/11 – Budapest, HU @ Papp Laszio Budapest Sportarena
05/13 – Vienna, AT @ Stadthalle
05/16 – Sofia, BG @ Stadthalle
You can purchase tickets at Song Kick. The cheapest ticket, at least for the first show, is £50.75. Considering this is Hans freaking Zimmer performing live for the first time on tour, that's not too pricey. The composer hasn't performed live partly out of fear of being on the stage, as he says in the trailer for the tour, but "you can't have fear rule your life."
Here's the trailer for the event:
The trailer begins with a piece of music from Angels & Demons. Not his most iconic piece of music, but it's reminder that, no matter the quality of the film the composer is working on, he delivers the goods. It's pretty rare to walkout of a film disappointed by Zimmer's music. Even his score for The Lone Ranger is quite delightful.