'Better Call Saul' Serves Up First Season 2 Teaser Trailers And A Season 1 Gag Reel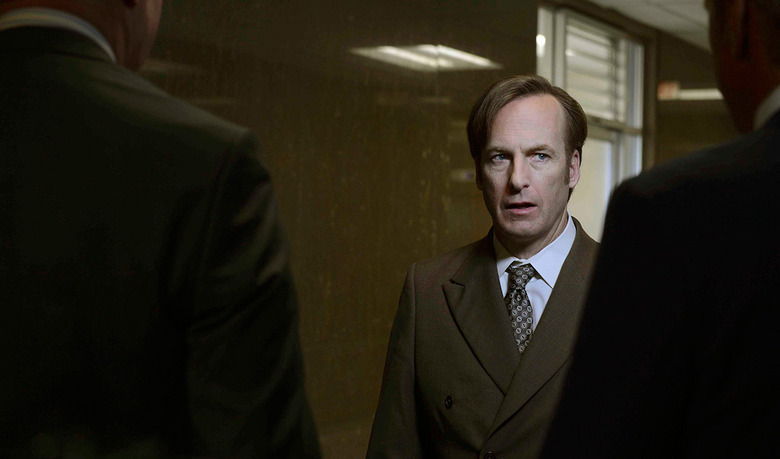 Better Call Saul might not be Breaking Bad-level dark, but it's still not what you'd call a lighthearted comedy. The show breaks down, step by step, how Jimmy McGill, a born con artist trying desperately to go straight, transforms into Saul Goodman, the conscience-free "criminal lawyer" we met in Breaking Bad. It's funny, sure, but it's often sad and occasionally downright heart-wrenching.
And it looks like that blend of comedy and tragedy will continue next year, based on the first two teasers for Better Call Saul Season 2. The atmosphere on set, however, looks less "Greek tragedy" than "workplace sitcom," as seen in a Better Call Saul gag reel. (Nothing breaks the tension quite like a prop that won't stay put, or in the case of a certain dollar bill, a prop that stubbornly insists on staying put when it's not supposed to.) Watch the Better Call Saul Season 2 teaser and Season 1 gag reel after the jump.
Entertainment Weekly shared the Better Call Saul gag reel, because even they can't make a living off of Fantastic Beasts photos alone.
If it seems like your sound is being wonky, don't fret — that's just the Better Call Saul gag reel going silent. The characters may not be able to drop F-bombs on AMC, but the actors clearly like to curse up a storm on set. It seems weirdly appropriate that the Better Call Saul set is apparently just filled with shoddy props that fall apart. What a metaphor for Jimmy's life, right?
And here are the first two Better Call Saul Season 2 teaser trailers, which mostly (or entirely?) consist of footage and dialogue from Season 1. We'll surely get to see some new material in the coming weeks and months. But for now, it's a reasonably effective reminder that this show was really good in Season 1, and that we can't wait for Season 2 to kick off.
AMC preemptively renewed Better Call Saul for a second season last summer (months before the Season 1 premiere even aired) and shooting is currently underway in Albuquerque. No premiere date has been set, but we can probably expect Season 2 to air next year around the same time Season 1 did this year — which is to say February or so.
The series is set six years before Saul Goodman meets Walter White. When we meet him, the man who will become Saul Goodman is known as Jimmy McGill, a small-time lawyer searching for his destiny, and, more immediately, hustling to make ends meet. Working alongside, and, often, against Jimmy, is "fixer" Mike Ehrmantraut, a beloved character introduced in 'Breaking Bad.' The series will track Jimmy's transformation into Saul Goodman, the man who puts "criminal" in "Criminal lawyer." The series' tone is dramatic, woven with dark humor.