'Touched With Fire' Trailer: Katie Holmes Finds Love In Insanity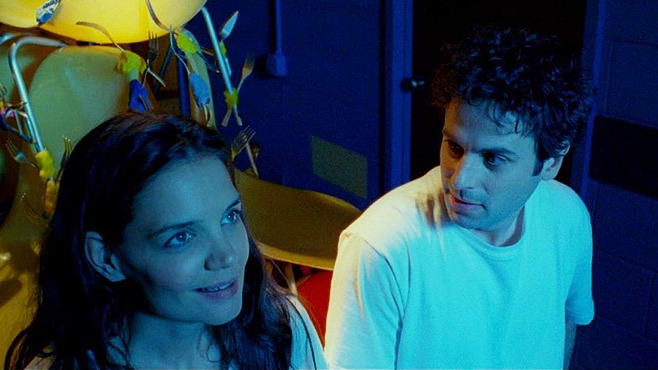 We haven't seen Katie Holmes in too many quality films in the last decade. Woman in Gold, Miss Meadows, The Giver, Jack and Jill, The Extra Man, Mad Money, and others misfires haven't exactly lived up to her work in Go, Pieces of April or the absolutely wonderful Wonder Boys. She's in a film coming out next year that may break her cold streak, though. Watch the Touched With Fire trailer after the jump.
Executive-produced by Spike Lee, Touched With Fire follows two manic-depressives, Carla (Holmes) and Marco (Luke Kirby), who fall in love. Written and directed by Paul Dalio, the filmmaker's feature debut, originally titled Mania Days, was praised at South by Southwest earlier this year for its authenticity and performances.
Here's the trailer for Touched With Fire (Source: Yahoo! Movies):
The trailer feels a little all-over-the-place. Perhaps that's the point, to express the ups and downs the characters go through. The tonal whiplash is jarring in the two-minute trailer, but maybe not in the actual film itself.
Dalio is bipolar, so clearly this is a personal story for the writer/director. In an interview with Yahoo!, Holmes had this to say about her director and how Touched With Love compares to, say, movies like Mad Money:
Our director is very open about having the disorder and this was very much his experience. When I sat down with him, I was really inspired by what he was saying... There are things that are pure entertainment, and there are things that mean something to me. Touched With Fire — this really means a lot to me. I'm really proud of this.
When the material is on the page, Holmes gives fine performances. There's only so much an actor can do in Jack and Jill or Mad Money. Maybe taking part in more personal films, like Touched With Fire, will rejuvenate her career. Holmes also recently made her directorial debut with an adaptation of All We Had, which is without a release date and distributor, but is probably aiming for a festival premiere.
Here's the official plot synopsis for Touched With Fire from SXSW:
Carla and Marco are manic-depressive poets whose art is fueled by their emotional extremes. When they go off their meds, they end up in the same psychiatric hospital. As the chemistry between them stirs up their emotions, it intensifies their mania. Despite doctors' and parents' attempts to separate them, they pursue their beautiful but destructive romance which swings them from fantastical manic highs to suicidal depressive lows, until they have to choose between sanity and love.
Touched With Fire opens in theaters February 12th, 2016.