Star Wars Bits: John Williams' "Finn" Theme, Lightsabers/Masks Banned, J.J. Abrams' Bet With Harrison Ford And Much More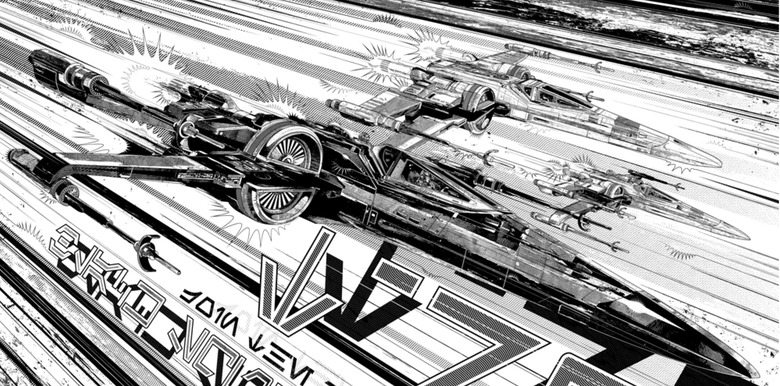 In today's edition of Star Wars Bits, we take a look at the following Star Wars: The Force Awakens tidbits:
Information on how you can buy Kako's "T-70 X-Wing" print pictured above.
What attracted John Boyega to the character of Finn and how many lightsabers does he own?
Watch Daisy Ridley talk about working with the original cast on Force Awakens.
Chewbacca actor Peter Mayhew talks about watching the trailer for the first time.
John Boyega talks about hearing John Williams' "Finn" theme from The Force Awakens.
Mark Hamill and John Boyega join campaign to let terminally ill fan see Force Awakens early.
AMC and Cinemark ban masks and lightsabers from screenings of Star Wars: The Force Awakens.
Hear J.J. Abrams' story about what happened when he won a bet with Harrison Ford.
Find out the details of the special Star Wars-focused issue of D23 Magazine.
All that and more. Hit the jump to lightspeed.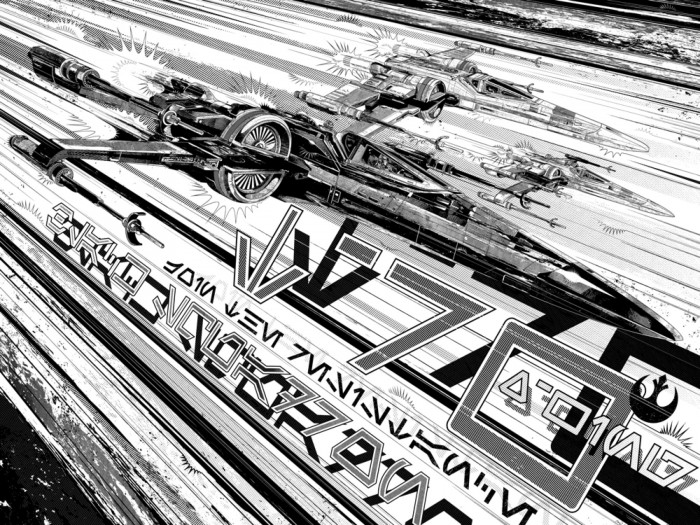 The Hero Complex Galley released the "T-70 X-Wing" screen print by Kako at Comikaze over the weekend, and the leftovers are now online for purchase. Get yours while supplies last for $35. The 24" x 18" screen print with metallic inks is a limited edition of 100.
We've already posted photos of John Boyega and Daisy Ridley in the studio for the recording of John Williams score for The Force Awakens. Boyega was stopped by Entertainment Tonight on the red carpet and talked about his experience sitting in on the scoring session. Watch his comments above.
The Hollywood Reporter has a profile on Star Wars: The Force Awakens star John Boyega. Here is an excerpt where Boyega talks about what attracted him to the character:
I think I'm always interested in characters that start off one way and end another. I find it very boring to have to read a script where the character always knows what to do, knows who they are, has a blueprint for their lives. I just feel that sort of character is painted for a perfect story. What has always interested me, and what has interested a lot of people, are the characters that are unlikely. The characters that don't necessarily fit or match the status quo. Finn isn't a guy you would expect to be involved in this story. The fact that he's a Stormtrooper. We don't [usually] go into [Stormtroopers'] pasts or lives much: how the dynamics work for them, how they were recruited — we don't ever really see much about the past there. It was interesting to me to have that kind of character.
Bogey also revealed that he has five lightsabers (apparently) from the production that he is planning to "give away to certain people when I see them."
Daisy Ridley on 'Star Wars': 'The Originals Are There'Aol.On has a new video clip from an interview with Star Wars: The Force Awakens star Daisy Ridley did for The Hollywood Reporter. Ridley doesn't reveal much, but it's still worth watching.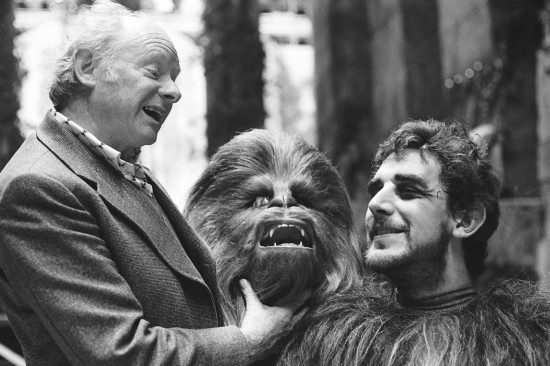 BMag asked Chewbacca actor Peter Mayhew how he felt while watching the Star Wars: The Force Awakens teaser trailer that ended with "Chewie, we're home." Here is what Mayhew said:
"Absolute pride," beams Mayhew, who's heading to Brisbane in November for the Supanova Pop Culture Expo. "When I saw it, I had 7,000 people around me. We were at Star Wars Celebration, and George said... no, JJ said, 'Do you want to see a trailer?' And everybody says, 'Yes, please'. The lights go out in the hall, I'm looking up at the screen, and I'm thinking it's just going to be the sand dunes and blah blah blah. But then Han and Chewie are there, and the line is, 'Chewie, we're home'. And everybody in the hall is crying, or laughing, or cheering, or whatever. And I just thought, 'Wow. How can we not have a success when you get 7,000 people reacting like that?' Even the Lucasfilm people, even [producer] Kathleen Kennedy, she'd been up on stage all day, and she was crying. I was standing six or eight feet away from JJ, and he was just going, 'Hmm... I like this'. It was terrific. It was a terrific thing that we were able to do, and it was such a good way of getting it out to all these people. It was marvellous. It was one of those moments... it gives you pride in what you've established."
Read the whole interview on the BMag website.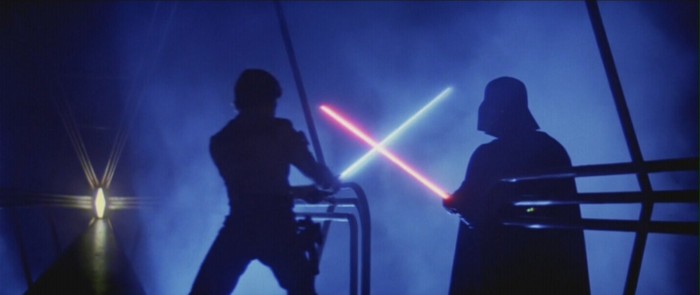 AMC and Cinemark theaters are banning masks and lightsabers from screenings of Star Wars: The Force Awakens. Cinemark notes in their pre-sale announcement that "costumes are welcome. However, no face coverings, face paint or simulated weapons (including lightsabers/blasters) will be allowed in the building." Meanwhile, AMC has released the following statement:
AMC does not permit weapons or items that would make other guests feel uncomfortable or detract from the movie-going experience. Guests are welcome to come dressed in costume, but we do not permit masks. In short, bring your lightsaber, turn it off during the movie, and leave the blaster and Darth Vader mask at home.
I can certainly understand the concerns raised by costumes and weapons in movie theaters, especially since there have been some violent events in the past few years. I also understand not wanting moviegoers to distract other moviegoers during the film. I think AMC ruling is much more reasonable than Cinemark's.
Mark Hamill, Peter Mayhew and  John Boyega have joined a campaign to let terminally ill fan see Force Awakens early.
Not really Star Wars-related, but watch Force Awakens director J.J. Abrams talk about a bet he made with Harrison Ford on the set of Regarding Henry (which was written by Abrams). The bet involved M&Ms and Harrison Ford being a sore loser. In the video above, Abrams tells the story at the Britannia Awards, BAFTA Los Angeles's annual ceremony which this year honored Harrison Ford, above.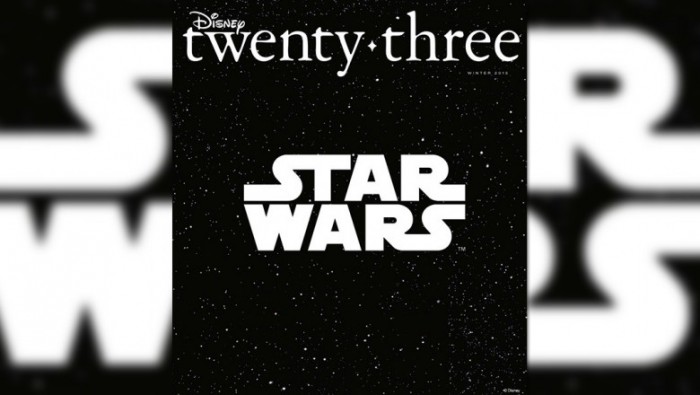 D23 Magazine, the official magazine of the Disney fan club D23, will have a special Star Wars-themed issue just in time for The Force Awakens release. Since the magazine arrives before the film, it won't contain much about the Force Awakens but here is what you can expect from the issue:
The issue is guest edited by C3PO.
Director J.J. Abrams sits down for a revealing Q&A.
Lucasfilm president Kathleen Kennedy talks about inheriting one of the most beloved franchises of all time.
Imagineer Scott Trowbridge gives fans a peek at what's in store for guests at the parks, following Disney Chairman and CEO Bob Iger's announcement at D23 EXPO 2015 of Star Wars-themed lands coming to Disneyland and Disney's Hollywood Studios.
Interviews with Mark Hamill, Carrie Fisher, and Harrison Ford about returning to the Galaxy Far, Far Away.