'13 Hours' Red-Band Trailer: Michael Bay Tackles Benghazi With All The Nuance You'd Expect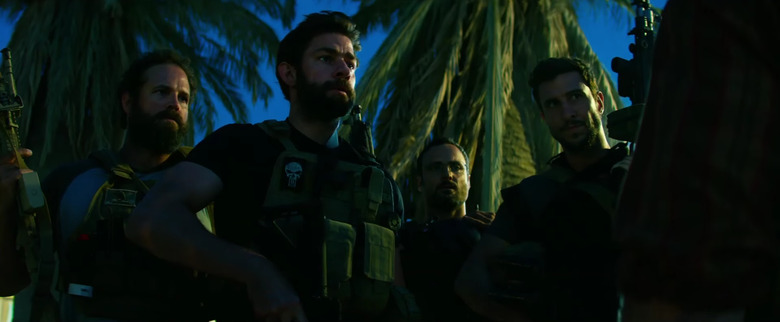 The events that occurred in Benghazi, Libya on September 11, 2012 were a tragedy that quickly turned into a hot-button political topic. Even now, years later, the argument over what "really" happened rages on, with people loudly and angrily taking sides depending on whether they get their updates from Fox News or MSNBC. It's a sticky mess that needs to be handled with nuance and insight. So who better to take it on than Transformers director Michael Bay?
In predictable Michael Bay fashion, 13 Hours: The Secret Soldiers of Benghazi seems to turn the situation into an excuse for handsome men to act all badass against a backdrop of pretty, expensive explosions. After all, if there's one thing Americans of all political persuasions can agree on, it's that we really enjoy movies about stuff blowing up. Watch the 13 Hours red-band trailer after the jump.
13 Hours Red-Band Trailer
In fairness, it's way too early to say how Bay handles Benghazi. It's only natural that the trailers would play up the pyrotechnics and heroics, because that's the stuff that gets butts in theater seats — especially if the butts you're after belong to people who love Michael Bay movies. His Pain & Gain was a surprisingly sharp, dark look at the American dream, so maybe Bay actually does maneuver Benghazi with more thoughtfulness than these promos are giving him credit for.
But whatever route he takes, it seems inevitable that he's going to ruffle some feathers. The topic is just too inherently controversial for him not to. In other words, brace yourself for thinkpieces and angry Twitter fights.
13 Hours: The Secret Soldiers of Benghazi has a script by Chuck Hogan (FX's The Strain) and is based on the book by Mitchell Zuckoff. James Badge Dale, John Krasinski, Pablo Schreiber, David Costabile, and many more people star. It opens January 15, 2016.