What 'Golden Compass' Movie? BBC One To Adapt Philip Pullman's 'His Dark Materials' For Television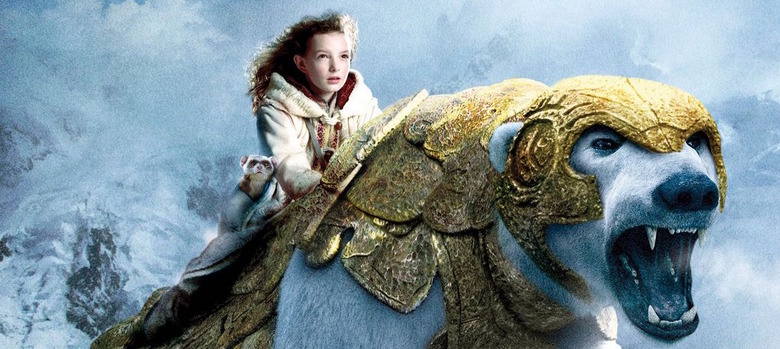 A great many people are fans of Philip Pullman's His Dark Materials trilogy, and a whole lot of said fans probably remember how disappointed they were when The Golden Compass, based on the first of those books, came out in 2007. It was really a blessing that the film didn't do well enough to spawn any sequels, as originally planned. Especially because if it had, we wouldn't be getting our hopes up for a new small-screen adaptation of Pullman's story.
BBC One has announced that it's making a new drama series based on Pullman's books, which center on Lyra Belacqua, a young girl living in a parallel universe where people's souls exist outside their bodies in the form of animal companions (known as daemons). And the story only gets weirder and wilder from there. More about the His Dark Materials BBC project after the jump.
Deadline reports New Line Cinema is producing the His Dark Materials BBC drama with Bad Wolf. Pullman, who is executive producing, gushed about the project.
It's been a constant source of pleasure to me to see this story adapted to different forms and presented in different media. It's been a radio play, a stage play, a film, an audiobook, a graphic novel — and now comes this version for television. In recent years we've seen how long stories on television, whether adaptations (Game of Thrones) or original (The Sopranos, The Wire), can reach depths of characterization and heights of suspense by taking the time for events to make their proper impact and for consequences to unravel.
Pullman's His Dark Materials books are typically categorized as YA fantasy, but are much more complex than that label would suggest. Not only does it have a big, sprawling plot, it dives deep into philosophical and theological issues. The series as a whole has been acclaimed by adult critics and readers as well as kids. In fact, the last book, titled The Amber Spyglass, was the first children's book ever longlisted for the prestigious Man Booker Prize.
Perhaps not surprisingly, then, one of the biggest problems with the Golden Compass movie was that it watered down the source material, downplaying its more complicated and controversial elements in order to appease the box office. Not that it helped — it still drew ire from religious groups and did middling business. All in all, it seemed like a waste of good source material, a good writer and director (Chris Weitz), and a good cast (including Dakota Blue Richards, Daniel Craig, and Nicole Kidman).
It's unclear how many episodes the His Dark Materials BBC drama will have. But the fact that Pullman mentions long, layered stories like Game of Thrones, The Sopranos, and The Wire suggests that one of the advantages of a show, as opposed to a movie, is that Lyra's story will have more room to breathe on the small screen. Details on who'll fill out the new cast, or when it'll shoot and when it'll air, have not been revealed.