Nicole Kidman Joins DC's 'Wonder Woman' As Amazonian Warrior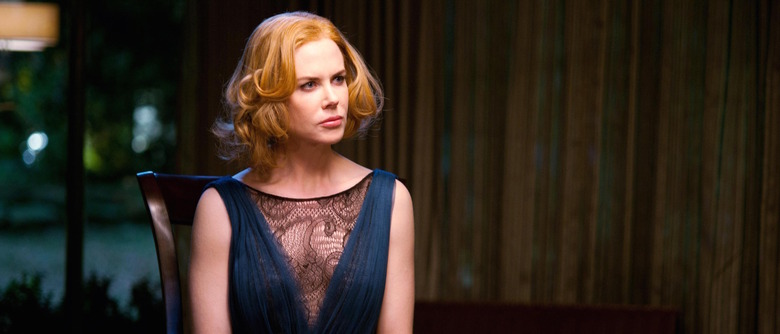 Warner Bros.' Wonder Woman has just roped in an Oscar winner. Nicole Kidman is in negotiations to join Gal Gadot and Chris Pine in the DC Comics adaptation, which is being directed by Patty Jenkins. More on the Nicole Kidman Wonder Woman casting after the jump. 
TheWrap broke news of the Nicole Kidman Wonder Woman casting. Kidman will play a "high-ranking Amazonian warrior." Her character name has not been revealed, but one possibility is that the description refers to Hippolyta, Queen of the Amazons and Wonder Woman's mother in the comics.Jason Fuchs (Pan) is credited with the Wonder Woman script. Confirmed details on the plot remain under wraps, though there are plenty of rumors flying around if you'd like to speculate. Gadot plays the title character, of course, and will make her debut in next year's Batman v Superman: Wonder Woman. Pine is her love interest, Steve Trevor.Wonder Woman won't be Kidman's first brush with the wide world of DC Comics. In 1995, she co-starred in Batman Forever as Dr. Chase Meridian, love interest to Val Kilmer's Batman / Bruce Wayne. Watch her "try to get under [his] cape," as he puts it, and run her hands all over his Bat-nipples below:
Kidman, of course, is a much bigger star today than she was back then. Certainly she's past needing to do a supporting role in a superhero movie just for the exposure or the paycheck, so whatever her role in Wonder Woman we can probably assume it's a significant one. And that it'll involve less breathy banter about black rubber.
The Aussie actress kicked off her year with the surprise hit Paddington, and recently hit TIFF as part of Jason Bateman's sophomore directorial effort The Family Fang. Later this year she'll be seen with Julia Roberts and Chiwetel Ejiofor in The Secret in Their Eyes, a remake of the Argentinian thriller of the same name.
Wonder Woman begins shooting this year for release on June 23, 2017. Zack Snyder and Deborah Snyder are producing.