'The Sound And The Fury' Trailer: James Franco Does William Faulkner, Again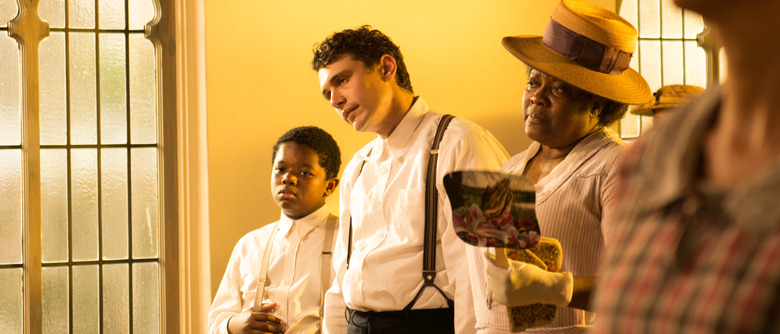 James Franco is known as an Oscar-nominated movie star, a terrible Oscar co-host, a model, an artist, an author, and a general all-around weirdo, but he's also a surprisingly prolific director. And his latest film, The Sound and the Fury, has just unveiled its first trailer.
Based on the classic novel by William Faulkner, The Sound and the Fury chronicles the decline of the once-proud Compson family over three decades in Jefferson, Mississippi. Franco himself plays Benjy, the disabled Compson son, and Seth Rogen, Danny McBride, Scott Haze, Tim Blake Nelson, Loretta Devine, Joey King, and Ahna O'Reilly also star. (Yes, this is a Franco / Rogen / McBride movie that is a straight-up serious drama.) Watch The Sound and the Fury trailer after the jump.
Say what you will about Franco, but you can't fault him for lacking ambition. Not only is The Sound and the Fury a revered American classic, it's also the kind of novel that inspires people to throw around words like "unfilmable." But Franco apparently heard that description and took it as a challenge. It may help that this is his second time directing Faulkner, after 2013's As I Lay Dying.
That said, reviews for The Sound and the Fury out of Toronto were not so great. And I cannot possibly be the only person who saw Franco's flailing, prosthetic-toothed performance in the trailer and immediately thought of Robert Downey Jr.'s immortal advice in Tropic Thunder, right?
The Sound and the Fury is available On Demand now.
Directed by and starring Academy Award nominee James Franco, The Sound and The Fury captures the lives and passions of the Compsons, a once proud Southern family caught in a tragic spiral of loss and misfortune. Based on the novel by Nobel Prize winner author William Faulkner and considered among the 20th century's greatest works, The Sound and The Fury encapsulates the universal theme of the death of honor, social injustice and forbidden love.