'Walking Dead' And 'Talking Dead' To Shuffle On For Another Season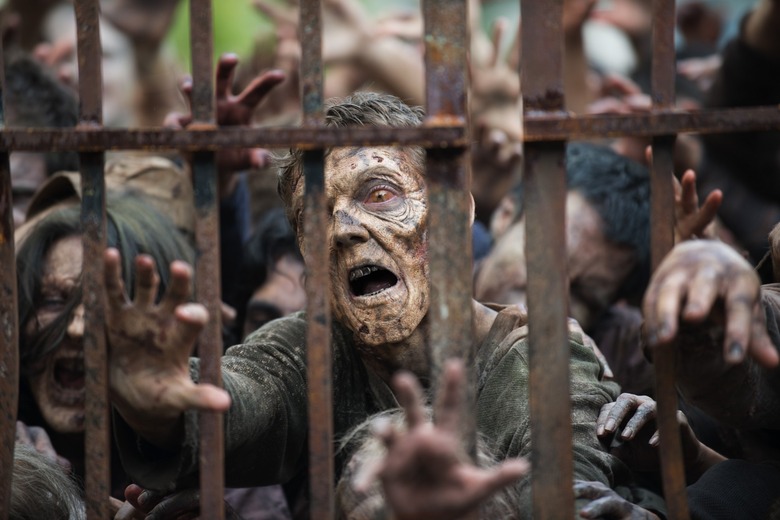 Just in time for Halloween, AMC has committed to spending another year in its hellish post-apocalyptic zombie wasteland. The Walking Dead and Talking Dead have both been renewed, taking the shows through 2017. More on the Walking Dead Season 7 renewal after the jump. 
AMC announced the Walking Dead Season 7 renewal via press release today. Scott M. Gimple will return as showrunner. (He took over the gig in Season 4, following Glen Mazzara and Frank Darabont.) Also coming back are executive producers Robert Kirkman, Gale Anne Hurd, David Alpert, Greg Nicotero, and Tom Luse, and, presumably, whichever cast members survive Season 6.
The network has not publicly confirmed an episode count, but the last four seasons of The Walking Dead have consisted of 16 episodes each. Likewise, while they haven't said when exactly Season 7 will kick off, it'll probably be around October 2016 in keeping with old habits. Talking Dead will, as always, air right after The Walking Dead.
The Walking Dead renewal isn't remotely surprising. The series continues to be a huge ratings-getter in the middle of its sixth season. The last episode, "Thank You," drew over 13 million viewers, and became one of the most talked-about shows of the week after Jon Snow-ing a fan-favorite character. Talking Dead, which debuted with Season 2 of The Walking Dead, continues to be popular as well. According to AMC, Talking Dead's most recent installment was one of its highest-rated yet.
While AMC has plenty of other shows, The Walking Dead is still its biggest hit by far. This summer, the network even decided to extend the franchise with Fear the Walking Dead, a spinoff / prequel set in the days leading up to the zombie apocalypse that Rick woke up to in the Walking Dead premiere. Fear was renewed for a second season before a single episode of the first had even aired.
AMC president Charlie Collier discussed the Walking Dead Season 7 renewal decision in a cutesy statement:
Thank goodness someone had a Magic 8-Ball with them in our many long internal meetings about these renewals. When, on the third shake, 'without a doubt' filled the murky blue screen, we knew we had to proceed with new seasons of 'The Walking Dead' and 'Talking Dead.' All joking aside, we are so proud to share these shows with fans who have been so passionate, communicative and engaged. We are grateful for and continually impressed by the talent, effort and excellence on continuous display by Robert Kirkman, Scott Gimple, Chris Hardwick and the many people with whom we partner to make these unique shows possible. The result: More Walking and Talking. Hooray.
Not to nitpick, but he really should've included an exclamation point after that last "hooray." A "hooray" followed by a period just looks sarcastic.
The Walking Dead airs Sundays at 9/8c.