'By The Sea' Trailer: All Is Not Well In Paradise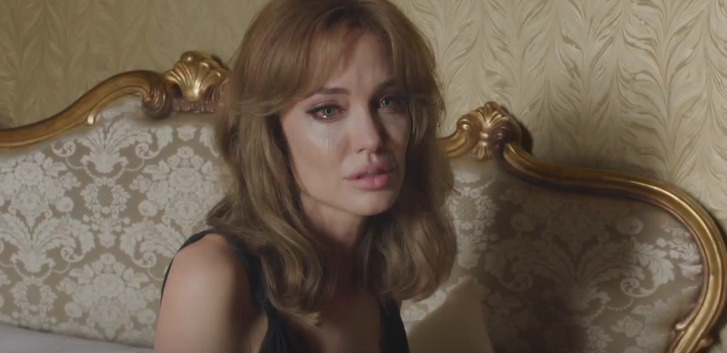 Director Angelina Jolie's sophomore effort, Unbroken, was a notable hit. Maybe not at the Oscars or with most critics, but it performed well at the box office. Now she's following up that audience-friendly biopic with a movie a little more experimental and less conventional. Watch the new By the Sea trailer after the jump.
Jolie wrote, directed, and co-starred with Brad Pitt (Killing Them Softly) in this story of a couple spending time in 1970s France when their marriage is falling apart. By the Sea will either be two incredibly good-looking rich people in an amazing location looking miserable for two hours or, if it's good, the setting will actually do its job and help heighten the characters' turmoil. If a couple can't be happy in paradise, then where can they be happy? And it's not like you leave your personal problems behind when you get on a plane and go on vacation.
As in the first trailer, Universal is relying on mood, images, and its two stars to sell this movie (via EW):
People always say trailers tend to spoil movies, so here's one of the few that doesn't. What's wrong with their marriage? What happened? The trailer doesn't say, and nor should it. Universal is, to their credit, selling the movie for what it looks and sounds like. Speaking with EW, Pitt says By the Sea is "not a film that responds to the current zeitgeist or storytelling – rather, a quiet, mature look at the challenges of love and adult loss," comparing the movie to John Cassavetes – a clear influence in the trailer.
By the Sea opens in two weeks and will soon make its debut at the AFI Film Festival. I should be seeing the film and have a review up on the site following the premiere, and I'm looking forward to it. It was rumored the original cut of Unbroken was much longer and more experimental, but with By the Sea, it seems like Jolie had complete creative freedom and got to make the movie she envisioned, and we'll if that's the case real soon.
Here's the official plot synopsis for By the Sea:
Written, directed and produced by Academy Award® winner Angelina Jolie Pitt, By the Sea serves as her directorial follow-up to Universal Pictures' epic Unbroken. By the Sea follows an American writer named Roland (Pitt) and his wife, Vanessa (Jolie Pitt), who arrive in a tranquil and picturesque seaside resort in 1970s France, their marriage in apparent crisis. As they spend time with fellow travelers, including young newlyweds Lea (Mélanie Laurent) and François (Melvil Poupaud), and village locals Michel (Niels Arestrup) and Patrice (Richard Bohringer), the couple begins to come to terms with unresolved issues in their own lives.
In its style, and its treatment of themes of the human experience, By the Sea is inspired by European cinema and theater of the '60s and '70s. Jolie Pitt is joined behind the scenes by a key crew that includes cinematographer Christian Berger (The White Ribbon), who used his Cine Reflect Lighting System to shoot the film; production designer Jon Hutman (Unbroken); editor Patricia Rommel (The Lives of Others); and costume designer Ellen Mirojnick (Wall Street: Money Never Sleeps). Pitt joins her in production duties, while Chris Brigham (Inception), Holly Goline-Sadowski (Unbroken) and Michael Vieira (Unbroken) serve as executive producers.
By the Sea opens in theaters November 14th.