'Bad Santa 2' Happening For Real This Time, Billy Bob Thornton Confirmed To Return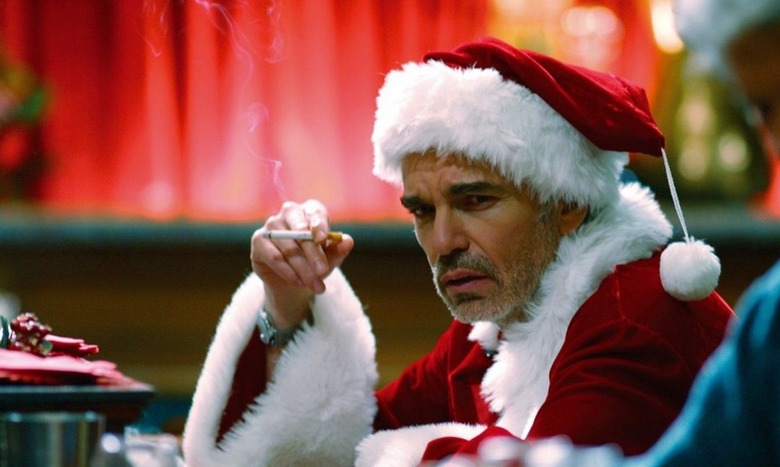 Here's an early Christmas present for those of you who like your holidays razor-sharp, pitch-black, and reeking of stale booze and cigarettes. Billy Bob Thornton is officially confirmed to return for Bad Santa 2, as announced by Miramax and Broad Green Pictures. More on the Billy Bob Thornton Bad Santa 2 return after the jump. 
Miramax and Broad Green Pictures revealed the Billy Bob Thornton Bad Santa 2 news via press release. So far there's no word on who'll direct, or who wrote the script. But with shooting slated to begin in January 2016 in Montreal, expect that to change soon. Geyer Kosinski, who's worked with Thornton on FX's Fargo, Jayne Mansfield's Car, The Astronaut Farmer, and more, will produce.
Released in 2003, the first Bad Santa was a modest hit with critics and audiences, and seems to have gained even more fans over the years. It's become a Christmas staple, at least among people who prefer rude, crude humor to the schmaltzier stuff that gets trotted out that time of year. That a sequel is coming isn't all that surprising. What is a bit surprising its that it's taken this long.
Not that it's for lack of trying. Thornton was in talks to reprise his role as con man Willie Soke as of 2011, and in 2012 he told press it'd shoot that fall. In 2013, he said it'd shoot in 2014. And earlier this year, we heard it'd film this fall. None of those predictions have come to pass, obviously, but things do seem a bit firmer this time around.
Earlier reports pegged Doug Ellin (Entourage) as the writer and probable director of the sequel. Before him, Steve Pink (Hot Tub Time Machine) was going to do it. Johnny Rosenthal and John Phillips have also previously worked on the script. None of them are mentioned in the latest report. The original was directed by Terry Zwigoff from a script by Glen Ficarra and John Requa, but there's no indication they will return.
Whoever joins Thornton in trying to recreate the magic of the original, 13 years later, will have their work cut out for them. What made the first Bad Santa work so well was the way the cast and crew handled the film's sweet-and-sour tone. It's exactly as filthy and inappropriate as you'd hope, but also heartwarming in its own way. As we've seen in R-rated comedy after R-rated comedy, that balance isn't an easy one to strike.
I mean, how many other Christmas movies have Lorelai Gilmore gasping "F*** me, Santa"? (Warning: NSFW.)
And how many movies then wind up somewhere as funny and tragic and weirdly sweet as this? (Probably also NSFW.)