Latest 'Suicide Squad' Photos Get Up Close With Harley Quinn, Killer Croc, And More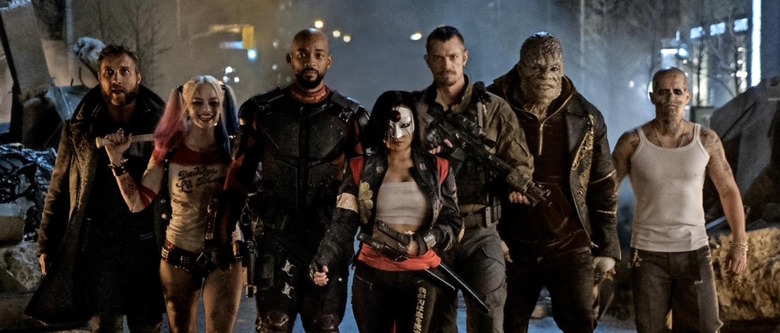 Suicide Squad isn't actually in theaters for another nine months, but you wouldn't know that from the onslaught of promotional material flooding the web this week. Say what you will about the film itself, but the Suicide Squad marketing team clearly isn't one for procrastinating.
Following four splashy magazine covers for Joker (Jared Leto), Harley Quinn (Margot Robbie), Deadshot (Will Smith), and Enchantress (Cara Delevingne), we have a new batch of Suicide Squad photos offering better looks at Killer Croc (Adewale Akinnuoye-Agbaje), Amanda Waller (Viola Davis), and more. Check 'em out after the jump. 
In fairness, all these Suicide Squad images come from the same place: a cover story from Empire Magazine. So it's not like Warner Bros. is mounting a full-scale campaign nine months early; they're just getting a head start with one big unveiling. The latest batch includes a new still of Davis as Amanda Waller, high-quality close-ups of Enchantress and Killer Croc, and a much better version of the Harleen Quinzel / Joker picture we saw a few days ago.
Davis' Amanda Waller (pictured with director David Ayer) may look normal, especially compared to the rest of these unwashed weirdos, but don't let her poise and polish fool you. "She's relentless in her villainy," Davis told the magazine. "When you look at her, there's nothing that seems dangerous. Her only power is her intelligence and her complete lack of guilt."
The rest of the cast had some interesting insights to offer on their characters as well (via Coming Soon). Akinnuoye-Agbaje describes Killer Croc as "a cannibal with rage issues," and Jai Courtney sees Captain Boomerang as "an absolute bogan, in the purest sense."
Not all of the Suicide Squad-ers are so into the mayhem, though. Jay Hernandez says of Diablo, "Most of these guys are happy to get out there and kill people, but he just wants to stay out of the fight." Meanwhile, Joel Kinnaman hints at Rick Flagg's problems with Deadshot, Karen Fukuhara suggests Katana — unlike some of her teammates — "has morals and codes."
Director Ayer offered his own thoughts on what sets Suicide Squad apart (via CBR):
You know, all these movies are about defeating the evil alien robot from f***ing Planet X, before it destroys the world with its ticking clock. And who the f*** cares? But you do this story about struggle and isolation and people who have been shit on that suddenly get thrown this lifeline... that's not so bad... I like to think of this as the Comic Book Movie 2.0.
Previously, Leto compared playing the Joker to "giving birth out of my prick-hole"; Smith teased a "ragged romantic triangle" between Deadshot, Harley Quinn, and the Joker; Robbie revealed her mom's reaction to Harley Quinn's costumes; and Delevingne spoke about the dual nature of her character.
And just for the sake of completion, here are the covers again:
Suicide Squad arrives August 5, 2016.