Starz Renews 'Ash Vs. Evil Dead' Before It Even Premieres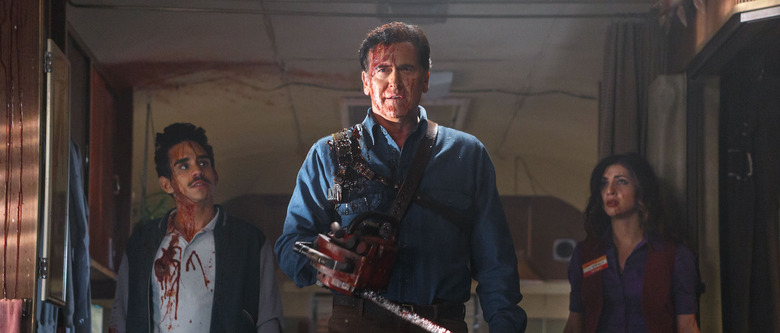 Ash vs. Evil Dead won't premiere for another few days (on Halloween, to be exact), but Starz is already eager for even more bloody insanity. The Sam Raimi-produced horror series — which brings back Bruce Campbell as the chainsaw-handed hero — has been renewed for Season 2. More details on the Ash vs. Evil Dead renewal after the jump. 
Starz announced the Ash vs. Evil Dead renewal in a statement. "One season isn't enough to satisfy the fans' two-decade-long appetite for more Ash," said Starz managing director Carmi Zlotnik. "The early fan and press support, along with the international broadcaster demand for more story, have made it clear that the adventures of Ash Williams can't end with Season 1."
Season 2 is expected to air in late 2016. It's unclear how many episodes Season 2 will have, but Deadline says it'll be at least as long as Season 1, which consisted of ten episodes. Campbell is confirmed to return as Ash, of course, and Lucy Lawless will be back as well. Raimi, Campbell, and Robert Tapert will executive Season 2 (just as they did Season 1), with exec producer Craig DiGregorio continuing to serve as showrunner.
But let's not get too ahead of ourselves. First things first, let's just be glad Ash vs. Evil Dead is premiering for its first season on October 31 at 9 PM. So far, it looks every bit as promising as we'd hoped. Get a little taste below with the first four minutes of the Raimi-directed first episode.
Campbell reprises his role as Ash, the stock boy, aging lothario, and chainsaw-handed monster hunter who has spent the last 30 years avoiding responsibility, maturity and the terrors of the Evil Dead. When a Deadite plague threatens to destroy all of mankind, Ash is finally forced to face his demons –personal and literal. Destiny, it turns out, has no plans to release the unlikely hero from its "Evil" grip.
The cast is led by Bruce Campbell (Evil Dead, "Burn Notice") in the role of Ash Williams, Lucy Lawless ("Salem," "Spartacus," "Xena") as Ruby, a mysterious figure who believes Ash is the cause of the Evil outbreaks, Ray Santiago ("Touch," Meet the Fockers) as Pablo Simon Bolivar, an idealistic immigrant who becomes Ash's loyal sidekick, Dana DeLorenzo (A Very Harold & Kumar 3D Christmas) as Kelly Maxwell, a moody wild child trying to outrun her past, and Jill Marie Jones ("Sleepy Hollow") as Amanda Fisher, a disgraced Michigan State Trooper set to find our anti-hero Ash and prove his responsibility in the grisly murder of her partner.