Jimmy Fallon Ride Officially Announced For Universal Studios Orlando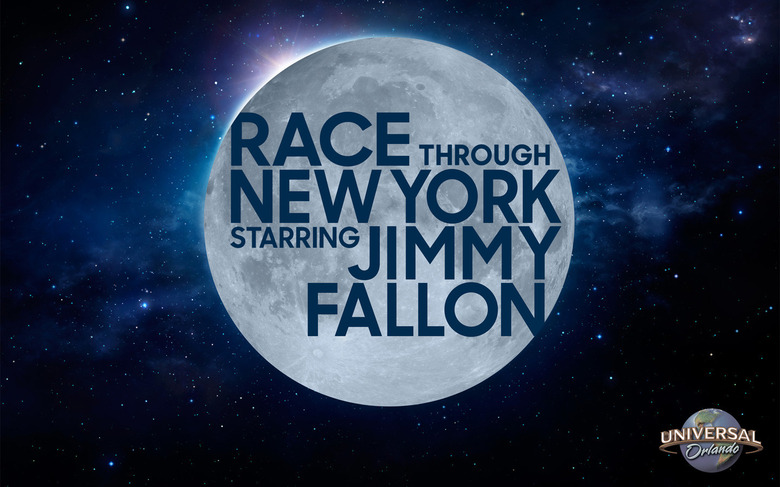 In July 2015, we reported a rumor that Universal Studios Orlando was planning a new motion simulator ride to replace Twister which would  take place in the mind of Jimmy Fallon on the set of The Tonight Show. Well, the report was mostly right. The new attraction will replace Twister...Ride It Out and will star Jimmy Fallon. Learn the details now after the jump.
Universal creatives worked with Fallon on the new ride and apparently he "wanted a fun and hilarious adventure that was also a valentine to his hometown of New York City." And that's exactly what we'll experience when "Race Through New York Starring Jimmy Fallon" opens at Universal Studios Florida in 2017. Fallon announced the ride last night on The Tonight Show. Watch the announcement below:
Universal Orlando creative director Jason Surrell says:
So, what's the attraction going to be like? I can't tell you everything, but I can tell you our team found inspiration in the outrageous celebrity races that have become one of the most popular segments of Jimmy's Tonight Show. The source material already features a wild and crazy ride almost every week! And since Universal Studios Florida has long been famous for placing guests in the middle of their favorite movies and TV shows, we thought it was a perfect fit. ... Our Universal Creative team has had an amazing experience collaborating with Jimmy and his staff of veteran comedy writers to create an unforgettable adventure that will bring The Tonight Show and New York City to life for our guests like never before. And our creative adventure is just beginning. As you can probably imagine, Jimmy's full of surprises and even we are never quite sure what's going to happen next – just like on The Tonight Show!
The ride's storyline will begin as you make your way to the fabled Studio 6B for a very special taping of The Tonight Show in which Jimmy challenges his studio audience to the ultimate race through New York City.
You'll rocket through the streets—and skies—of New York City, from the deepest subway tunnels to the tallest skyscrapers, encountering colorful characters, famous landmarks and anything else that comes to Jimmy's mind—and "that is some weird, wild stuff," to quote an iconic previous host.
In the video announcement, Fallon hints that the 3D attraction will feature all sorts of 4D effects, including smoke, scents, water and more. As I stated in my original post, this sounds like a horrible idea. You'd think that Universal would learn from their previous attractions that rides based on a moment in time quickly becomes dated. Here is an excerpt:
I can imagine this kind of attraction would be one that would feature a bunch of cameos, which might be big stars of the moment, but could quickly become dated in just a few years. If you add in topical jokes about selfie sticks and what not, the ride's shelf life becomes even more limited. The Tonight Show itself is based in the moment and day it airs. The smarter thing to do would be to base an attraction on something more timeless, a classic movie or something more general that won't quickly become dated.
Universal has also confirmed that Twister...Ride It Out will close on November 2nd, 2015 to make way for this new ride experience. I was never a big fan of the Twister attraction and much more preferred the Ghostbusters effects stage show it replaced, so its not a big loss.