LOL: 'Inside Out' Emotions Have All The Feels While Watching 'Star Wars: The Force Awakens' Trailer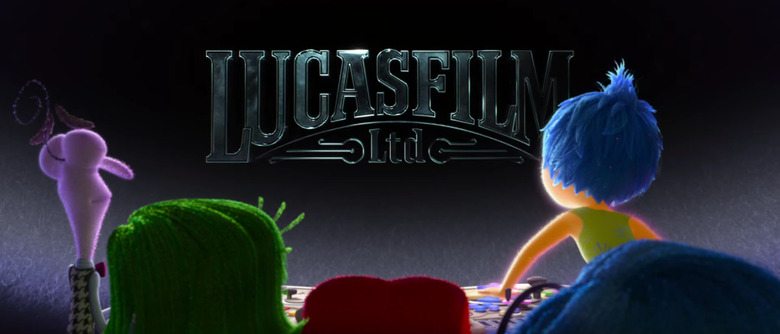 We'd say that last Star Wars: The Force Awakens trailer got us a little emotional, but then we'd be lying. If we're being honest, it got us a lot emotional — choked up, teary-eyed, quivering in anticipation, yelping with glee, and experiencing Proustian flashbacks to our childhoods. It felt like the emotions in our head were going nuts, and apparently the emotions in Riley's head from Inside Out were experiencing the exact same thing. Watch the Inside Out Star Wars reaction video after the jump. 
Disney unveiled the Inside Out Star Wars reaction video on YouTube.
Yes, this is an obvious and totally shameless bit of cross-promotion. Inside Out is out on Digital HD now and hits DVD and Blu-ray November 3; Star Wars: The Force Awakens, as you no doubt already know, opens in theaters December 18. An Inside Out Star Wars reaction video lets Disney kill two birds with one stone. But that doesn't make it any less aww-worthy. It was probably just a matter of time before someone on the Internet had the brilliant idea to mash up Inside Out and Star Wars. It might as well be Disney, who owns both properties (as well as pretty much every other IP under the sun, at this point).
As far as Force Awakens reaction videos go, though, not even the combined powers of Joy (Amy Poehler), Sadness (Phyllis Smith), Anger (Lewis Black), Fear (Bill Hader), and Disgust (Mindy Kaling) can top the clips posted by stars Daisy Ridley and John Boyega in the wake of the trailer's release. Their inner Joys were clearly going into hyperdrive, though they manifested in different ways — Ridley by sobbing in bed, Boyega by diving behind his couch. You know you want to see them again.
And, what the heck, watch the final Star Wars: The Force Awakens trailer again too. Give your emotions something fun to do today.
And once your emotions have calmed down a bit and let your more rational side take over, don't forget to check out our very reasoned analysis of that same trailer, if you haven't already.