Star Wars Bits: Stephen Colbert & J.J. Abrams, John Boyega Meets John Williams, Star Wars Vs. Star Trek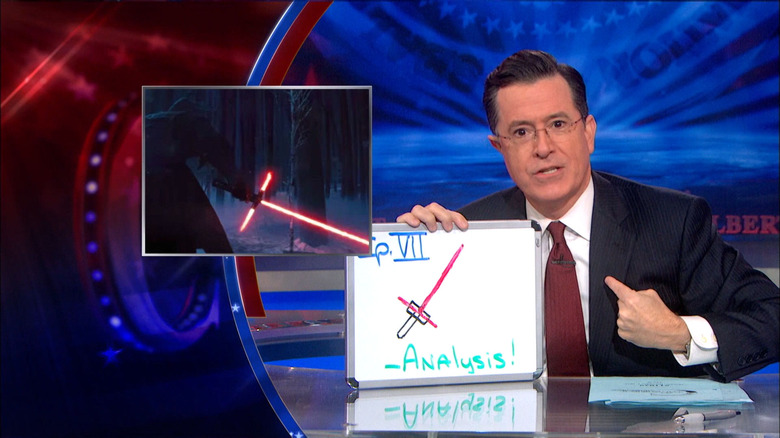 Who am I? I'm no one... but I do come bearing a generous bounty of Star Wars-related tidbits! After the jump:
Stephen Colbert and J.J. Abrams will talk Star Wars in New Jersey
No more trailers are coming for Star Wars Episode VII
Luke Skywalker is all over this "new" Force Awakens trailer
Why Star Wars: Knights of the Old Republic was ahead of its time
William Shatner keeps the Star Wars / Star Trek rivalry alive
John Boyega and Daisy Ridley hang out with John Williams
Give your loved ones a basket of Ewoks for Christmas this year
Could the cancelled Darth Maul video game get resurrected?
Why none of us will ever truly know how Star Wars ends
What happens when you pit two huge, hugely famous Star Wars geeks together in the same room? We don't know, but we can't wait to find out. Stephen Colbert and J.J. Abrams will take the stage together for the Celebrity Nerd-Off in Newark, New Jersey on Saturday, November 21. The live event benefits the Montclair Film Festival. Tickets are on sale now, or enter to win a whole weekend of celebrity geekery through Omaze.com.
That last Star Wars: The Force Awakens trailer is going to have to tide us over for a while, as director J.J. Abrams confirms no more are coming. "Well, there'll be commercials," he told Extra. "But no more trailers."
Ever since that final Star Wars: The Force Awakens trailer came out, fans have demanded to know: Where is Luke Skywalker? Well, it actually turns out he was in the trailer all along. We're talking, like, in every scene. How did we not notice this before? In fact, the only person who might get more screen time than Luke in this trailer is Jar Jar Binks. And that's saying something.
Further proof that Star Wars: Knights of the Old Republic was ahead of its time... #TheForceAwakens pic.twitter.com/7BQvSXiqLs

— Max Nicholson (@Max_Nicholson) October 27, 2015
Does Star Wars: The Force Awakens look a little... familiar? It might, if you're a Star Wars: Knights of the Old Republic player.
Check out SW vs Space 1999 pic.twitter.com/PymvpbzRJi

— William Shatner (@WilliamShatner) October 20, 2015
Meanwhile, William Shatner also thinks Star Wars: The Force Awakens looks a bit too familiar for comfort. Nice to see the Star Wars / Star Trek rivalry is still alive and well? See much more Star Wars bashing at his Twitter account.
***
On the next page, John Boyega and Daisy Ridley meet a Star Wars icon, a cancelled game tries to get resurrected, and a certain original trilogy character makes it into the merchandising for the very first time.
Star Wars: The Force Awakens stars John Boyega and Daisy Ridley's complete inability to be chill about any of this is so totally endearing. Today, they're (rightfully) freaking out about hanging out with composer John Williams.
There's no end to the limited-edition Star Wars collectibles on sale, but you'll be hard-pressed to find a cuddlier one than this basket of Ewoks. This plush set is one of a limited edition set of 1,000, and marks the merchandising debut of Romba. Pick it up at DisneyStore.com.
Once upon a time, Red Fly Studio was developing a Darth Maul-centered video game called Battle of the Sith Lords. It was cancelled in 2011 ahead of Lucasfilm's sale to Disney, but Red Fly's Dan Borth revealed during a Reddit AMA they're trying to resurrect the project.
[W]e are currently working on a full next gen demo of all things Maul to show to the powers that be. It's been a lot of work on our off time.
We have been burning a candle for this game since it was killed in hopes we can get it turned back on again. IF that is to happen we need to approach EA with a demo that will impress them. I think we have that or are close to it. Still it is completely not up to us.
However, he admits doesn't "know what are chances are realistically," so don't start saving up just yet. In the meantime, the video above offers a little glimpse of what could have been.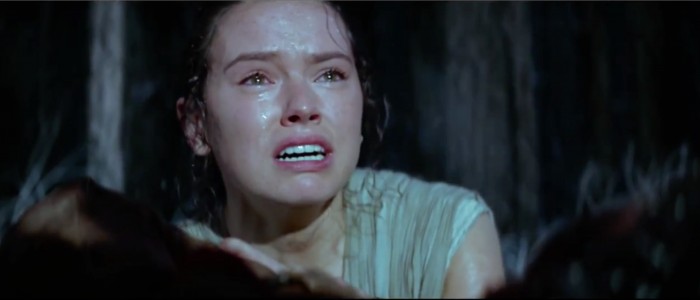 Mike Ryan at Uproxx digs deep to make the elegiac observation that, "Unless you are immortal, you will never know how Star Wars ends." Because the movies are just going to keep coming.
We've gotten to the point these kind of announcements aren't unusual. The reason has everything to do with studios trying to reserve those precious historically bountiful dates for their respective franchise movies. It's kind of like trying to get a hot restaurant reservation, only you are the restaurant and they want to reserve your money five years from now. Which is nice and all, but with these movie dates getting set more and more in the distant future, it's all starting to make me feel bad about my mortality.
If you like your Star Wars fandom with a side of existential angst, read the whole essay here.