The 'Transformers' Franchise Won't Lose Those Pesky Humans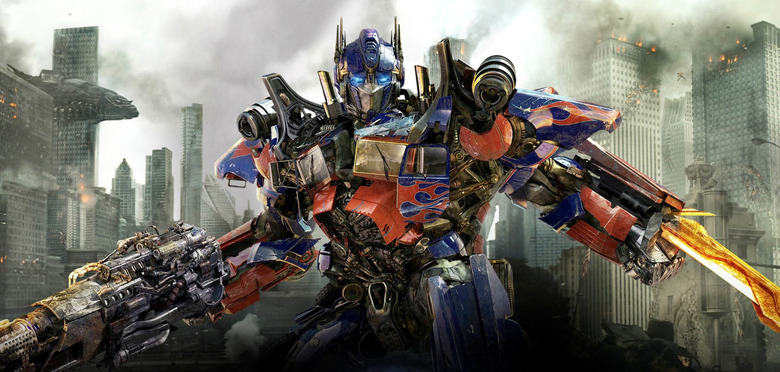 Do people go to the Transformers movies to understand "the human experience," to see what it truly means to be alive? Probably not, but the four Transformers movies have focused quite a bit on its human protagonists, which hasn't always satisfied fans of the series. The franchise is expanding with spinoffs and animated movies, which will, once again, follow the point-of-view of the humans.
Learn more after the jump.
Akiva Goldsman (A Beautiful Mind, I Am Legend) is currently writing Transformers 5 and is a key member of the franchise's writing room, which features Robert Kirkman (The Walking Dead), Art Marcum and Matt Holloway (Iron Man), Zak Penn (Pacific Rim 2), Jeff Pinkner (Fringe), Andrew Barrer and Gabriel Ferrari (Ant-Man), Christina Hodson (Warner Bros.' upcoming The Fugitive remake), Lindsay Beer (Disney's upcoming Dig), and Blacklist scribes Geneva Robertson-Dworet and Ken Nolan. Daredevil's season one showrunner, Steven DeKnight, is also involved.
Speaking with IGN, Goldsman was enthusiastic about the writers' room. There's only so much he can say about their plans, but he did discuss their approach to structuring the forthcoming Transformers films.
Our hope is that they are all interconnected and of course standalone, right? I think architecturally, the best — I think I believe this — the best serialized storytelling has integrity from start to finish of the episode, whether it be TV or a movie or comic book or novel series or short story series. You want to be able to satisfy both appetites — which I think is very different from procedural or episodic. You want to feed the instinct for the short-term gratification and the longterm gratification. So we're trying to do both.
That's a very tough balance — a balance a lot of sequels don't pull off. Unless my memory mistakes me, though, all of the Transformers movies have been standalone movies, without any major doors left open for sequels.
One of the many, many problems with the 165-minute long Transformers: Age of Extinction is Cade Yeagar (Mark Wahlberg). The "inventor" and his family's storyline is weightless. The relationship between Sam (Shia LaBeouf) and Bumblebee in the first movie actually works, but after that, when it came to the human characters, they became meaningless in these films. I imagine no kid is buying a Cade Yeagar action figure; they're only interested in the robots. And yet, the humans will remain the stars of this franchise.
Do I think Transformers can live without humans? Sure. Do I think humans can live without Transformers? Sure. In Transformers movies? Sure! But, fundamentally, there seems to be something really great about the interaction between the two species. I think that, in the main, I would suggest that that would be something you wouldn't want to squander. Although that doesn't mean that you couldn't do all sorts of things for a little while.
Director Michael Bay has been the captain of the Transformers ship for over eight years now. Say what you will about those films' scripts and their screenwriters, but he has a lot of influence in terms of what's on the page. Maybe by making these movies driven more by the writers this could finally become a fun franchise. At this moment, it's only rumored Bay will return to direct Transformers 5.